Truth & Integrity
The Men of Order approach:
🧠 Sustainable solutions. No compromising the future for the present.
🌿 Only the highest-quality ingredients. Curating the best the world has to offer.
🗯️ Transparency and honesty. We're an open book - get at us in the contact form below if you have questions.
Buy Now!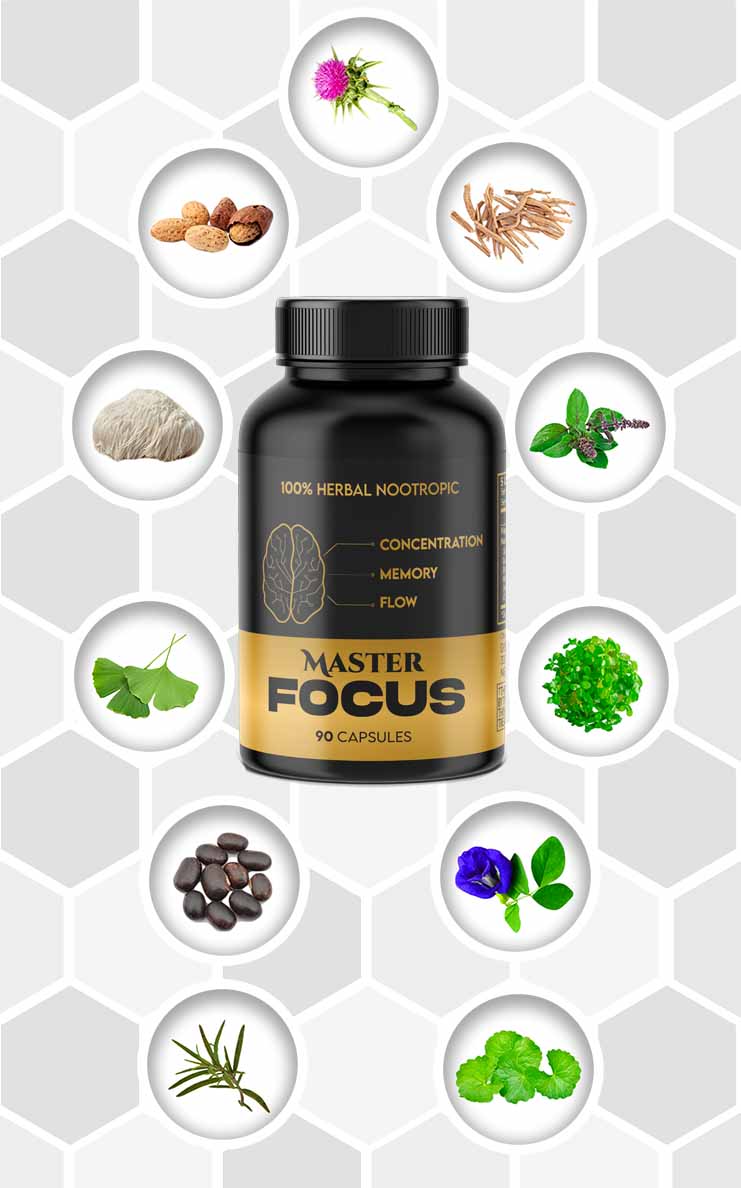 The Master Focus™️ formula is a 360º approach to brain health that provides powerful, long-lasting & sustainable results.
Our combination of herbs is a 5-pronged strategy that includes:
🔍 Memory Amplifiers: Better memory function for faster recall by promoting brain health.* 
🧠 Brain Builders: Facilitate optimal brain function.*
⚡️ Energy Boosters: Provides you with energy to easily complete your most arduous tasks.*
🌞 Mood Enhancers: Supports the release of key neurochemicals to make hard tasks seem easy and enjoyable.*
🧬 Gut Health: Helps maintain healthy organs associated with the nervous system and neural function. *
We leave nothing out.
Buy Now!
Our science-backed, natural nootropic is the closest thing to focus in a bottle*
Let customers speak for us
Lightning-Fast Thinking

Our premium herbal capsules gives your brain the support it needs for:

⚡️ Quick calculations: Back of a napkin math becomes easy-to-solve mind puzzles.

🌊 Flowing work & momentum: No more procrastination, just quick execution of your most pressing tasks.

🔍 Instant information Analysis: See the informational patterns, make connections, get the whole picture.

Brain Health Optimization

Our herbal blend is specifically formulated to support long-lasting brain health. Brain health is paramount if you wish to:

🎯 Enhance Your Focus

💭 Enhance Your Memory

😇 Enhance Your Mood

🌞 Experience Mental Clarity

We want to enhance your focus sustainably.

Slay Mental Laziness

Your brain naturally wants to be lazy - it does not want to think. Procrastination is difficult to overcome.

So we formulated Master Focus™ to promote your overall wellbeing to make thinking easier and more enjoyable.

Because here's the thing - your genius is waiting for you on the other side of this laziness.

This genius is what you wield to tackle life's challenges and create the life of your dreams.
Ingredients backed by Science
Ginko Biloba

Researchers believe that Ginko Biloba promotes cognitive function by supporting good blood circulation in the brain.*

Holy Thistle

Holy thistle contains chemicals called tannins, which help alleviate diarrhea, cough, and swelling. People use Holy Thistle to maintain healthy digestion.*

Kapikacchu

Research shows the L-dopa in Kapikacchu supports the maintenance of dopamine in the brain cortex. This can have many beneficial effects on mental and physical well-being.*

Blue Butterfly Pea

Several studies have indicated that blue butterfly pea supports acetylcholine levels in the brain. Acetylcholine is essential for good brain health.*
Lion's Mane

Research on the health benefits of lion's mane indicates the mushroom has significant potential to promote neurogenesis - the process by which new neurons are formed in the brain.*

Holy Basil

Holy basil is a calming adaptogen, which means it can mitigate feelings of stress by inducing relaxation while providing sustainable, lasting energy.*

Ashwagandha

Ashwagandha is best known for its ability to reduce stress. It's classified as an adaptogen, a substance that helps the body cope with stress.*

Rosemary Leaf

Rosemary can soothe temporary heartburn and ease occasional intestinal gas and bloating.*
Bacopa Monnieri

Studies have shown that Bacopa monnieri promotes signaling molecules implicated in the formation of synapses, the points of contact where information is transmitted between neurons.*

Gotu Kola Leaf

According to one review of studies, gotu kola may help support the functioning of the brain and nervous system, support memory, and promotes healthy aging.*

Kola Nut

The kola nut is a cultural staple in many West African countries, prized for its support of the central nervous system, which increases alertness and boosts energy levels.*
Collapsible content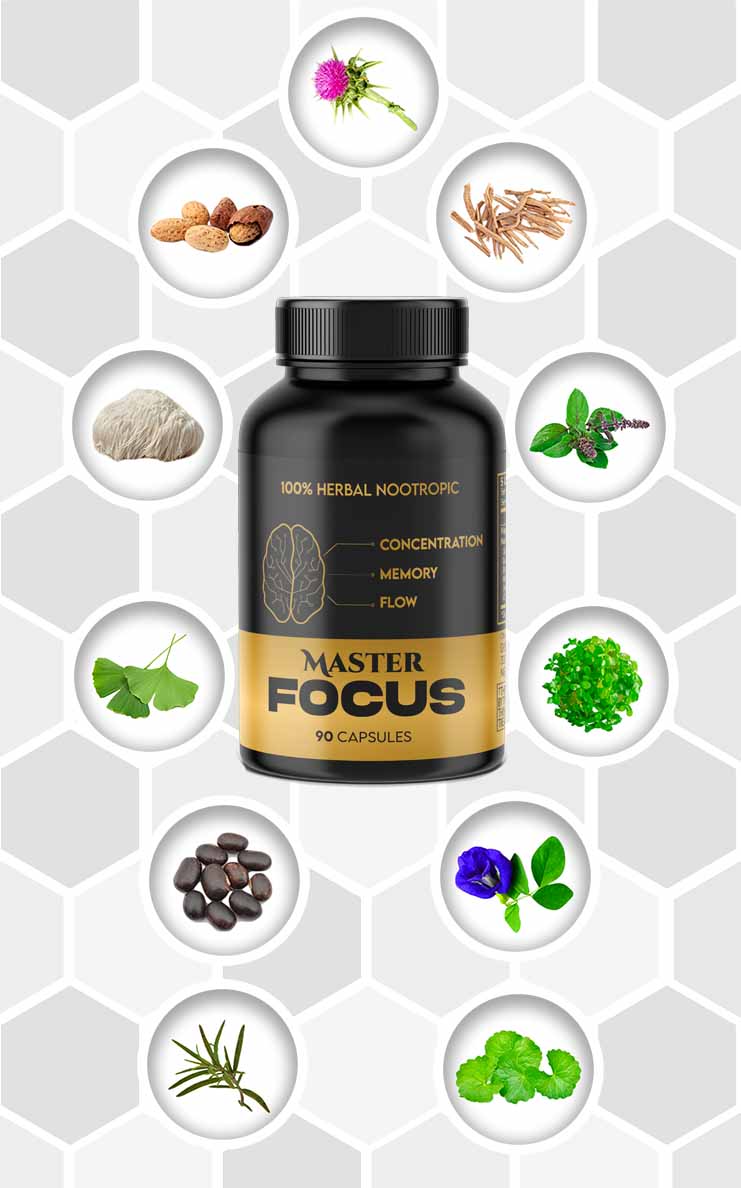 What is a nootropic?

If you've ever had a cup of coffee, you've had a nootropic. The active nootropic in that case is caffeine.

Nootropics can be loosely described as "brain enhancers" or "cognitive enhancers."

Another descriptor includes the use of the term "smart drugs" (which is a term we DO NOT use).

There are two basic categories of nootropics: natural or synthetic.

Master Focus™ has made the conscious decision to provide you with 100% all natural ingredients, which we believe are safer than the synthetic versions of nootropics.

Nootropics promote better moods, relaxation, memory, creativity, focus, and concentration in healthy adults.
What are the ingredients in Master Focus™?

Master Focus™ has a special formula of herbs and mushrooms that includes Ginkgo Biloba, Gotu Kola Leaf, Bacopa Monnieri, Rosemary Leaf, Holy Thistle, Ashwagandha Root, Kola Nut, Holy Basil Leaf, Kappi-kacchu, Blue Butterfly Pea, and Lion's Mane.
Are there any filler ingredients?

We do NOT add any filler ingredients in our formula. Many brands do for various reasons which do not lend any benefit for brain health. We ONLY include the best ingredients which include nothing but herbs, roots, seeds, and mushrooms.
What is the Master Focus recommended dosage?

For best results take three (3) capsules with water 5 minutes before or after a meal, daily.
How long does it take to work?

The effectiveness of Master Focus™ depends on your body chemistry. Some individuals are healthier than others so they will feel the effects sooner and deeper. Expect to feel some effects after two weeks of daily use. Some claim to feel improvements immediately.

Master Focus™ uses herbs that support gut health and the enteric nervous system. Some professionals have referred to the gut as the "second brain." And supporting the gut promotes your ability to think.

Our formula also promotes antioxidant processes.

Master Focus supports better memory, focus, mood, mental speed, and overall brain function.
How does Master Focus™ work?

One of our ingredients (Bacopa monnieri) promotes the growth of nerve cell branches (dendrites).

This supports your brain in processing information faster.

To improve your mood our formula promotes the activity of neurotransmitters known as gamma-aminobutyric acid (GABA) and support overall blood circulation.

It also promotes neurogenesis - the process by which new neurons are formed in the brain.

By supporting your central nervous system you may experience increased alertness and a boost in energy levels.
Are there any side effects?

Master Focus™ facilitates healthy blood flow so men may experience an increase in their libido.
Where and how is Master Focus™ manufactured?

Master Focus™ capsules are made and sourced in the USA.

Our ingredients are pure, containing only COA (Certificate of Analysis) organic and/or wild crafted herbs. 

Master Focus™ manufacturing is CGMP (Current Good Manufacturing Practices) compliant, ensuring its safety and quality.
Are the capsules vegan?

Our product is 100% Vegan, made without gluten, soy, eggs, nuts, or wheat. Our capsules are HPMC Vegetable Cellulose.
Why are you more expensive than other brands?

Many of the brands you see in the nootropics market use cheap and/or filler ingredients in their formula.

Master Focus™ has no fillers. Each capsule is filled with 100% premium herbs, roots, seeds, and mushrooms from organic and wild sources.

We have included nothing but the best earth has to offer to ensure the quality of your health and brain.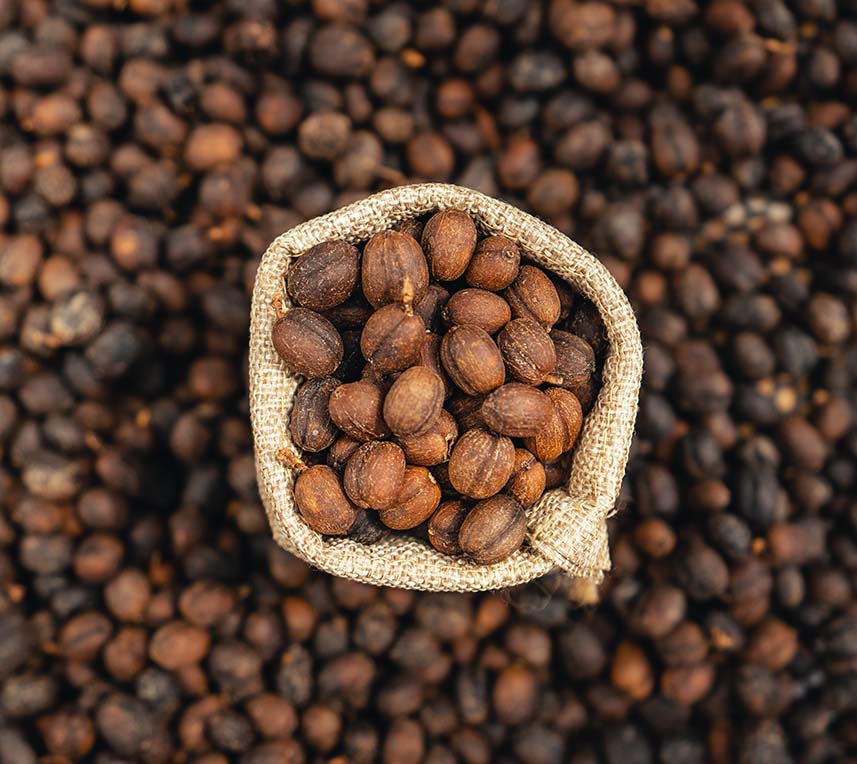 Keep Your Coffee!
As a company, we have no desire to replace anything in your life - coffee, double shot of espresso or otherwise.
We only want to add goodness to it. 
We're a companion to your caffeine. After all, our formula includes an herb that contains caffeine and caffeine is a nootropic.
So, enjoy your Cup O' Joe with a dose of healthy supplements to keep you energized and motivated throughout the day.
Buy Now!
Quality

Only high-end, ethically-sourced, whole food ingredients.

Integrity

We tell you the truth and come through on our promises.

Holistic

We tackle problems from all angles. We align with nature.