No, it hasn't been confirmed by anything reliable. UFC 281 in October doesn't even have a single fight on it, but trust me when I tell you that Conor will fight Tony in early 2023. The stars will align, their timelines make sense, and their styles and fanbases will be thrilled.
Tony "El Cucuy" Ferguson
Tony "El Cucuy" Ferguson is coming off a great showing in the first round against Michael Chandler at UFC 274. The second round is a different story, where Tony got hit with the most vicious front kick the UFC has ever seen- knocking him out cold. However, there were some real moments of inspiration for "El Cucuy" that made fans ready for more. He dropped Michael Chandler twice in the first round, was throwing precise shots from distance and acting like the Tony of old.
Comedian Conor
Immediately following his KO loss, Conor McGregor started up his twitter fingers to make fun of the former interim champ. First it was jokes about how Tony's smushed face at the point of impact with Chandler's foot looked like a chicken nugget. It was apparent that Conor, in the now deleted late night twitter rant, was not the most sober person on twitter at that time. He went on to tweet "McDonald's near me in St.Tropez, Still open". The notorious later tweeted again that he meant that for google. Clearly these are the actions of a stone cold sober man.
After having some time to rest and recoup, Tony Ferguson chimed in to respond to the former two division champ. Tony has been calling Conor "McNuggets" for years, so for Conor to use a McNugget as his moniker for Ferguson's KO face, was a clear opening for "El Cucuy."
Mystic Mac
While Mcgregor likes to insult fighters regularly, he doesn't do it without reason. Conor is always looking for the angle, a spark to ignite another sell out crowd and top 5 selling PPV. This is what he was doing after Tony's KO loss. See, The Notorious came out recently and said the earliest he can fight is November but likely early 2023. Tony needs some time off as a 38 year old who has been in brutal fights in his last 4 bouts, perhaps around 6-8 months. With Conor and Tony's return timeline looking like they will be ready around the same dates- a matchup between the two may be imminent.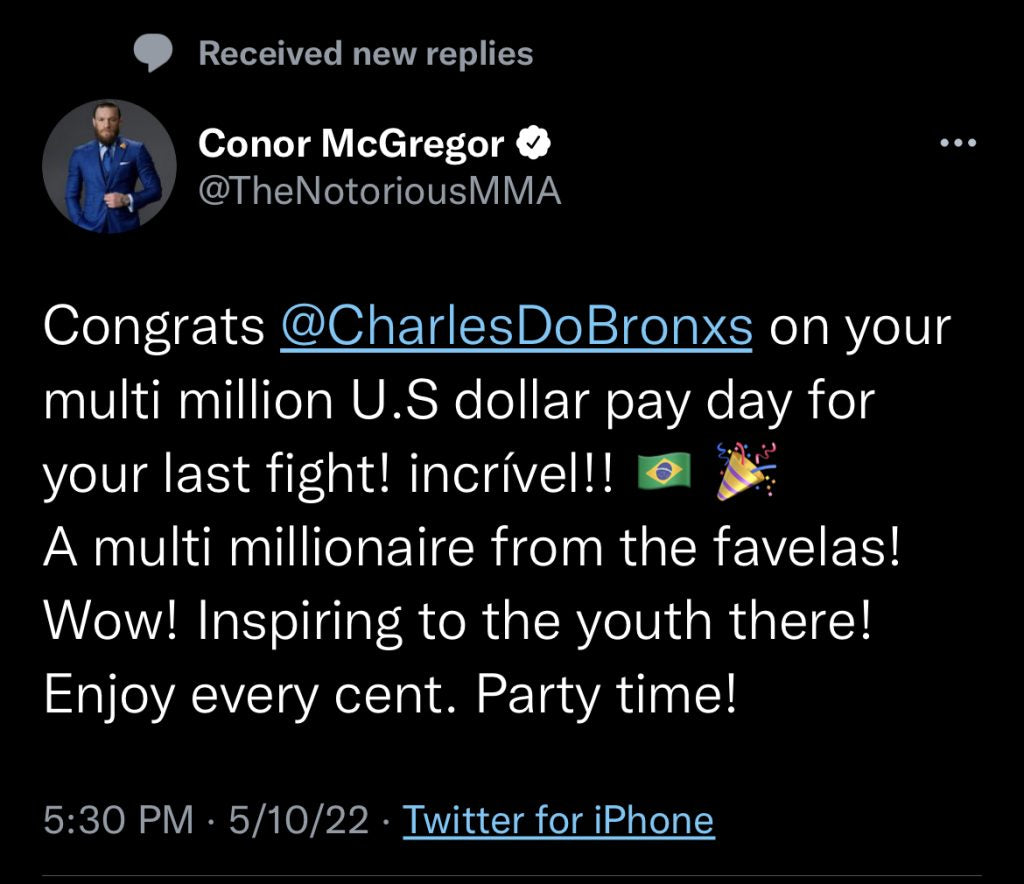 Conor may need to have a warm up fight, something to get him back in the cage and using the shin that snapped on him in July of 2021 before the title shot he claims he can stroll into at any time. Additionally, we have seen Conor be extremely nice to Charles Oliveira following the win on Saturday over Justin Gaethje in spectacular fashion. Uncharacteristically nice, and if he is trying to fight Charles, it is not the typical way Conor goes about getting a matchup.
Oliveira is looking to stay active and regain his title after being half a pound over at the weigh-ins prior to UFC 274. Charles "Do Bronx" won't wait till November or 2023 to fight again, likely fighting in august or September of this year. The paths back to the octagon for these two fighters dont seem to be aligning as of now, but everyone wants to fight Conor for the payday. Charles will want to do it as Champ to get some of the sweet Pay- Per- View points to line his pockets. Who can blame him?
It Just Makes Cents ($$$)
With the time off needed for both Tony and Conor, as well as the stylistic matchup of two strikers, will be very appealing to fans. Conor has underrated takedown defense and Tony doesn't often shoot for takedowns. Mcgregor will definitely fancy the matchup as he most certainly believes he can beat the aging Ferguson while also having the star power and ability on the mic to hype the fight beyond what Conor has to do himself. The press conference between Tony and Conor would be electric- it would be great to see the UFC do more than just one should this come to fruition.
This is also a good matchup for Tony as Conor has been out of the cage for some time. Tony trains like a crazy person (because he is) and Tony's awkward striking style and range can keep him away from the big left hand of Mcgregor. Ferguson has been chirping on twitter to Mcgregor for some time now, and with the audience he brings, as well as the following "El Cucuy" has, this fight is a cash cow in the eyes of the UFC.
Conclusion
Both Conor and Tony have plenty of matchups in front of them should they choose to continue their UFC career. However, few line up as perfectly as this, for the fans, the fighters, and the UFC. From the excitement perspective, this fight brings the fireworks. From an appeal perspective, it would be pitting two of the most die hard fan bases in MMA against each other. For each of those reasons, this matchup is sure to be nothing less than a record setting draw for the UFC. Dana, take this idea- sincerely, every UFC fan ever.
---
Let me know what you think of my prediction for Conor and Tony. You can follow me on Twitter @PickinFightsTom. For future cards, check out our betting guides at PickinWinners.Org and our show Pickin Fights on YouTube (we had a great week betting this card [as usual] and would love to help you make money).