The Curious Case of Brittney Griner, an Unlikely Political Prisoner detained in Moscow on trumped up drug charges
The New York Times reported earlier today that Russian customs officials detained WNBA star Brittney Griner at Moscow airport. Later in the day, the Russia Federal Customs Service released a statement and video via Telegram.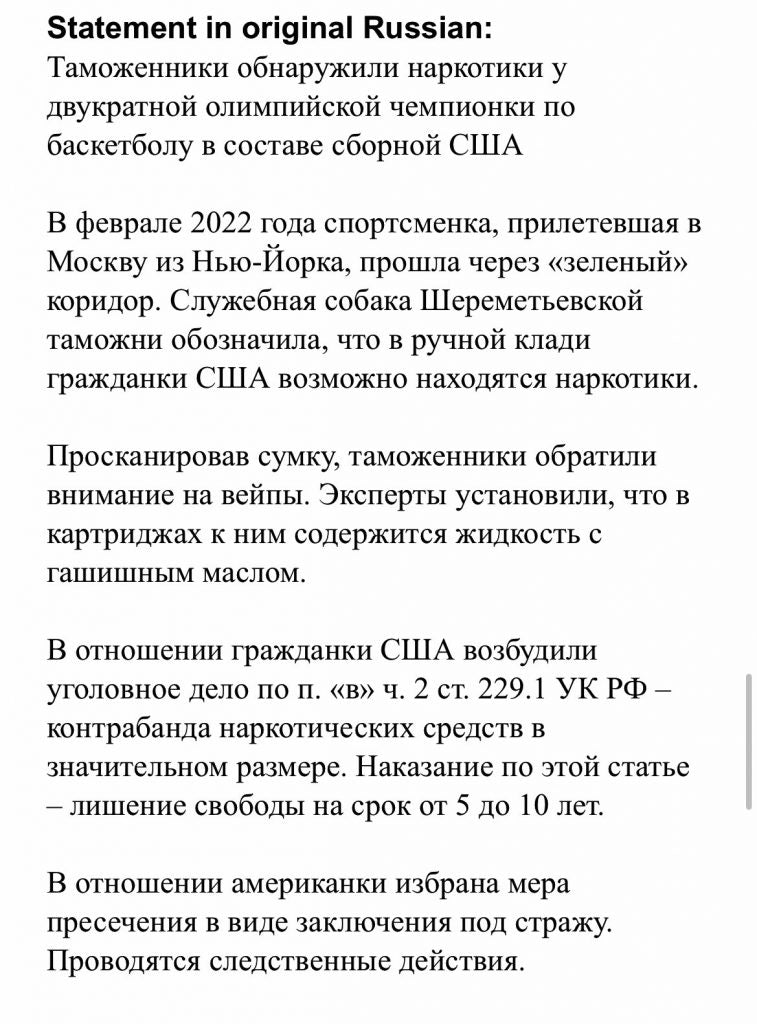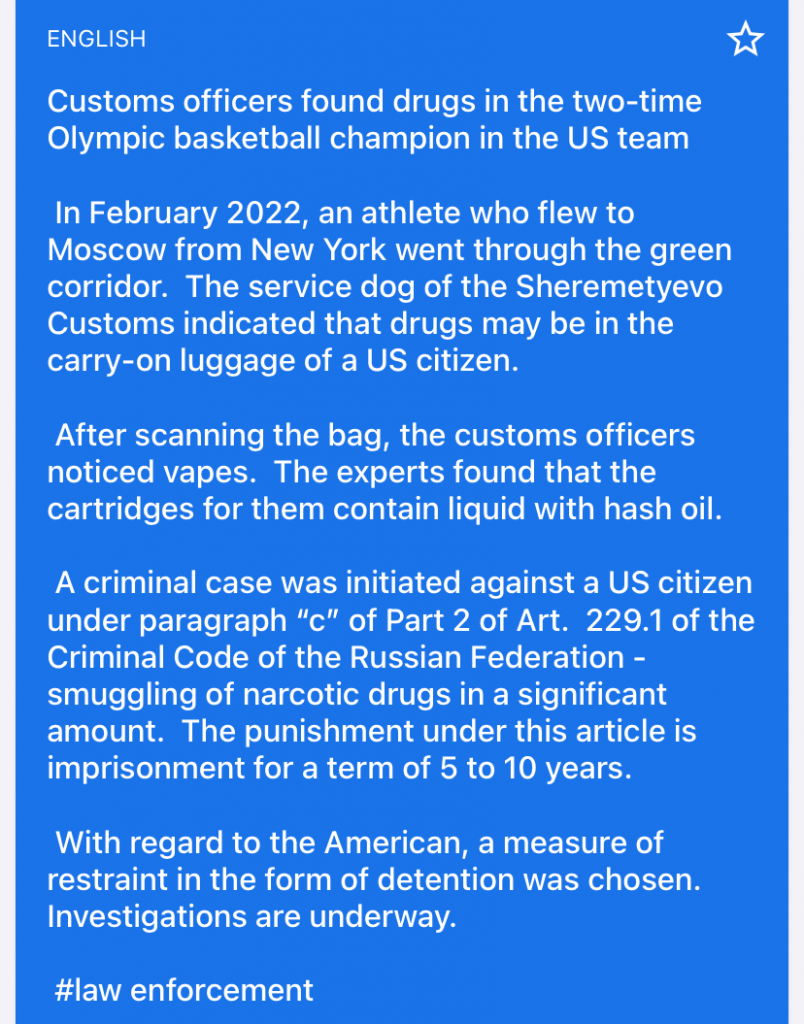 As you can see, NYT did not give a timeline and the Russians obfuscated the date of the arrest. The assumption by NYT and other news outlets is that this is a political arrest because of the on-going tensions between the US and Russia. Do the facts support this?
Who is Brittney Griner?
Brittney Griner is a professional female basketball player since 2013. She has had an impressive career. She's been to the Olympic team twice. She's a seven time WNBA All-Star. In 2017 and 2019 she led the league in scoring. She (in)famously proclaimed in 2016 that she could beat DeMarcus Cousins in a one-on-one matchup.
In addition to the above, she is a four time EuroLeague champion, three time Russian National League champion and Russian Cup winner.
Pause – what?
That's right. Since 2014, Griner has played overseas for UMMC Ekaterinburg – a team in the Russian Premier League and International Basketball Federation (FIBA) Europe.
Why?
Because the WNBA don't pay their women jack shit lol!
So Griner plays in Russia where she is appreciated and can make a cool million in the off-season.
Timeline
According to FIBA's website, Griner last played on 29 January 2022. Though UMMC Ekaterinburg had a game just three days later on 1 February 2022, Griner was not on the starting lineup or the bench. She was also absent on the next game that was scheduled on 23 February 2022.
For Griner to have been stopped at customs, she would have had to leave Russia after her game on January 29, and (assuming she was going to play after the break) return to Russia before February 23.
The US State Dept issued a travel advisory on January 23 imploring US citizens not to go to Russia.
Griner's fellow teammates from UMMC Ekaterineburg (Jonquel Jones and Emma Meesseman) each departed from Russia on March 3rd, but no one in the sports world seemed to know about Griner.
As far as anyone can tell, Griner has been missing from the public eye since the 29th of January and, presumably, flew home and then back to Russia, and detained at customs in Moscow around the 19th of February.
An unlikely political prisoner?
Political prisoners are typically those with allegiances and beliefs that run contrary to the views of the capturing government.
But Griner has historically lauded Russia and Russian sports leagues in stateside media.
In 2016, ESPN ran a piece profiling Griner's overseas career.
"The club they play for, UMMC Yekaterinburg, provides each player with a personal driver, ensuring that they always arrive on time and also allowing them to say, without irony, "I'll have my driver pick you up."

So yes, Griner loves it in Russia."

ESPN Internet Ventures. (n.d.). Why are these WNBA stars in Russia? it's not just about the money. ESPN. Retrieved March 5, 2022, from http://www.espn.com/espn/feature/story/_/page/espnw-russia160505/brittney-griner-diana-taurasi-opted-play-russia-money-escape-spotlight
In 2018 she was similarly laudatory of how well the female team stars are treated in the Russian league, stating they are cared for "like the NBA."
In July 2020, Griner made headlines for protesting the United States national anthem in the aftermath of Breonna Taylor's death, saying "I honestly feel we should not play the National Anthem during our season."
Be that as it may, Griner is certainly a high profile athlete at the top of her game. It may be on that fact alone that Russia would be interested in using her as a political bargaining chip.
Let's know more about this Russian basketball team with such deep pockets.
UMMC Ekaterinburg
The UMMC in UMMC Ekaterinburg stands for "Ural Mining and Metallurgical Company". It's a small, humble mining outfit that is responsible for producing 50% of Russia's lead and 40% of its cathode copper and zinc.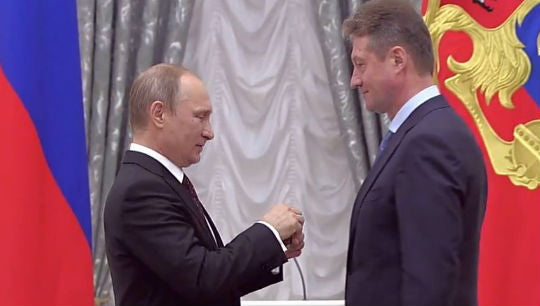 UMMC is owned by Russian oligarch and multibillionaire Andrei Kozitsyn.
Aside from being a successful businessman who plays a huge role in Russian mining, he is also well decorated. In 2014 he received the Order of Merit for the Fatherland.
Andrei, of course, has ties directly to Putin not just as high-profile billionaire, but in his multiple investments into Russia and Russian infrastructure.
What comes next?
It's hard to say exactly how this situation came about or where it's going. Griner's friends and family and her legal team have been silent on the situation. So have her fellow UMMC Ekaterinburg teammates.
The legitimacy of Griner's detainment is obviously bogus. The charges she allegedly faces are clearly trumped up, but why?
She's probably been vaping that hash oil out in plain view of every Russian from Moscow to Siberia for the past six years, Jack!
Does it make sense for Griner as a champion and all-star in the Russian Premier League, playing for a team owned by one of Russia's well-connected oligarchs – winning for him numerous trophies and championships – to be selected as a high-profile hostage?
Kozitsyn's prize athlete is suddenly a political prisoner?
Why, when US citizens and her own teammates were making plans to leave Russia, did she return to Russia? And against US State Department advisories in the face of escalating international turmoil?
And why are those closest to her being so mum on the circumstances as they might know it – an atypical reaction?
The only thing we know for certain is that Russia is in full control of this narrative. And everything we know, and how we know it, is 100% exactly and only what Russia wants us to know.
And that's not a good spot to be in.
It's not going to win Russia any points in the propaganda war. (Not that they care.)