Here are a few players that will make great waiver pickups for Fantasy Football!
3. Will Dissly, TE, Seattle Seahawks
Rostered in 1.6% of Fantasy Football Leagues
Will Dissly has taken advantage of his opportunities, and he has sprouted into a valuable player in a much needed position group. Catching all twelve of his targets for 116 yards and three touchdowns, Dissly has been the tenth best Fantasy Football TE so far, and the crazy thing: he is only rostered in 1.6% of leagues.
Even if Dissly would just be riding your bench as a backup, it would still be valuable to pick him up because Tight Ends are a very top heavy bunch. In fact, it wouldn't be an exaggeration to say that Travis Kelce and Mark Andrews are worlds above every other Tight End. In reality, if Dissly continues to stay consistent and increases his back to back double digit Fantasy point performances, he could possibly hold a starting job on your team.
Dissly and his Seahawks will be matching up with the Saints in New Orleans this week.
2. Donovon Peoples-Jones, WR, Cleveland Browns
Rostered in 2.1% of ESPN Fantasy Football Leagues
Donovon Peoples-Jones could be a valuable bench wide receiver if he can stay somewhat consistent. Last week, DPJ put up 12 fantasy points on 5 receptions for 71 yards. But perhaps the most interesting piece was his nine targets, in fact, 20 of his 24 targets have come in two games with the other 11 against Carolina in week one.
So we know the target volume can be there, but he is a relatively risky pickup especially because the Browns are a run heavy offense and their Quarterback, Jacoby Brissett, has already established his top target as Amari Cooper. However, when Brissett can't get the ball to Amari, as demonstrated in Cooper's mediocre week one and week four performance, DPJ is next in line with his two best performances in week one and week four. Peoples-Jones is definitely a gamble, but it's worth taking a shot on him because we know that there will be games where he gets his opportunity to shine.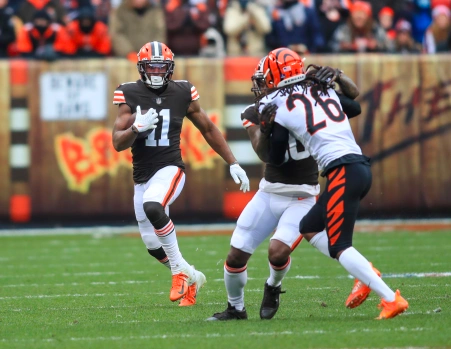 1. Corey Davis, WR, New York Jets
Rostered in 7% of ESPN Fantasy Football Leagues
Corey Davis is fresh off a strong week 4 performance at Pittsburgh. Davis racked up 74 yards and a touchdown on five receptions en route to a 18.4 PPR day; with second year quarterback Zach Wilson coming back, it's likely Davis will be able to build off of his performance last week into this week against the Dolphins, who may be without their top CB, Xavien Howard. Davis is only rostered in 7% of leagues, so he should definitely be available if you choose to pick him up.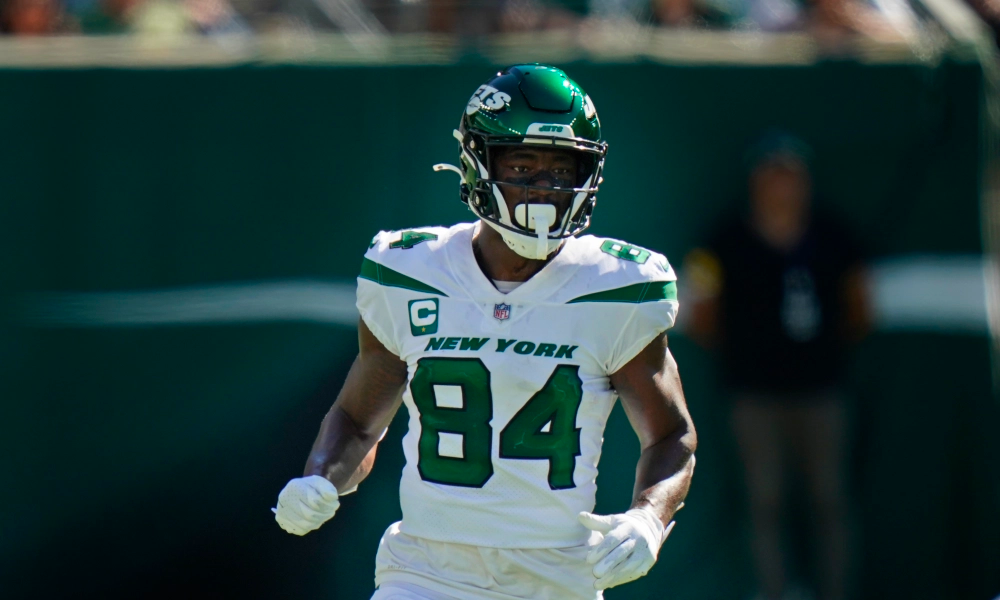 Running Backs: Tyler Allgeier and Mike Boone
Week four was not a fun week to be a starting running back. Javonte Williams, Cordarrelle Patterson, Alvin Kamara and others either missed or got injured during their respective week four contests. Here is a small additional list of Running Backs to pick up via waivers that can fill in on your Fantasy Team.
1. Tyler Allgeier, RB, Atlanta Falcons
Rostered in 16.9% of ESPN Fantasy Football leagues
A member of our Rookie Running Backs List, Allgeier will be filling in for last year's revelation Cordarrelle Patterson. Last week against the Cleveland Browns, Allgeier rushed for 84 yards on just 10 carries and picked up 20 yards on a reception, also. This week Allgeier and the run heavy Falcons will be matching up against a stout Buccaneer front seven, but he will still probably get a ton of opportunities on the ground making him a viable replacement for Patterson and other injured RBs.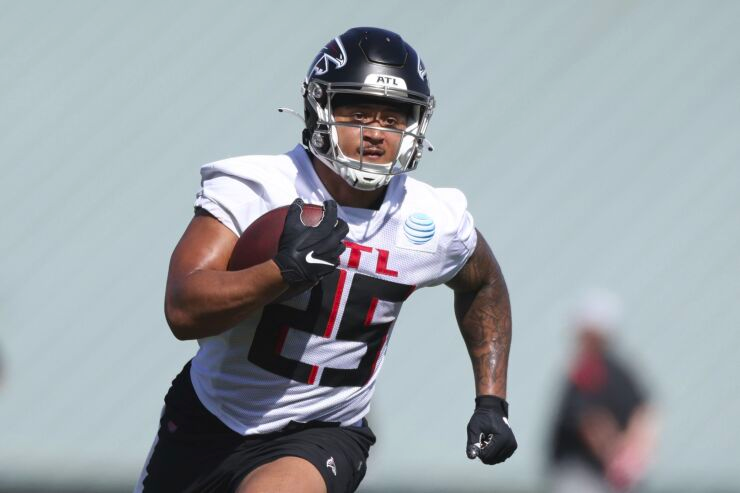 2. Mike Boone, RB, Denver Broncos
Rostered in 0.2 % of ESPN Fantasy Football leagues
With Javonte Williams missing the rest of the season with an ACL injury, journeyman Mike Boone will get a strong opportunity in the Denver offense. What makes Boone a compelling option is that he will get carries throughout the season because of Williams' injury. This week, however, Boone may be the lead guy ahead of Denver's TNF matchup against the Colts because Melvin Gordon suffered a neck injury on Sunday. Gordon's status is up in the air; but whether he plays or not, Boone will still be a valuable piece to your team this week and going forward.