Flipping furniture is a great side hustle for beginners looking to make some extra money.
Do you have some extra time on your hands and are looking to generate some extra cash? If you're good with your hands and willing to put in some effort then you can make thousands of dollars as a supplemental income by flipping furniture.
I personally believe that making money is more fun than spending it, so why not learn an easy way to generate income? Extra money can help pay the car note, insurance, and other bills that are stressing you out.
Flipping furniture really doesn't require much start-up money either and it's rather easy to find free pieces to flip, you just have to know where to look.
What is Flipping Furniture?
This is pretty simple. People find underpriced furniture that is being sold, given away for free, or thrown out on the side of the road. They then restore it to look brand new and resell it for a higher price to make a profit.
A lot of people will pay hundreds or even thousands of dollars for certain pieces of furniture, so there is plenty of opportunity to make money if you know what you're doing.
How to Find Free or Cheap Furniture
There are so many different places where you can find used furniture that is affordable, or even better… free!
The first place to look is your own residence or even a family member's residence. If you have a piece of furniture you want to get rid of then you may have an opportunity to make your first sale.
You can also find cheap furniture at the following places:
Craigslist
Yard Sales
Thrift Stores
Flea Markets
Garage Sales
Consignment Shops
Facebook Marketplace
Local Facebook Groups
Along with this, you can also find nice pieces of furniture with potential right on the side of the road. If your town or city has a "Junk Week" then you may be able to find some quality pieces that people do not want anymore.
A lot of towns also have Town Wide Garage Sales every year, so that's another opportunity to look for. Most of the time Facebook Marketplace is the best place to buy and sell furniture, so that may be the best place to start looking.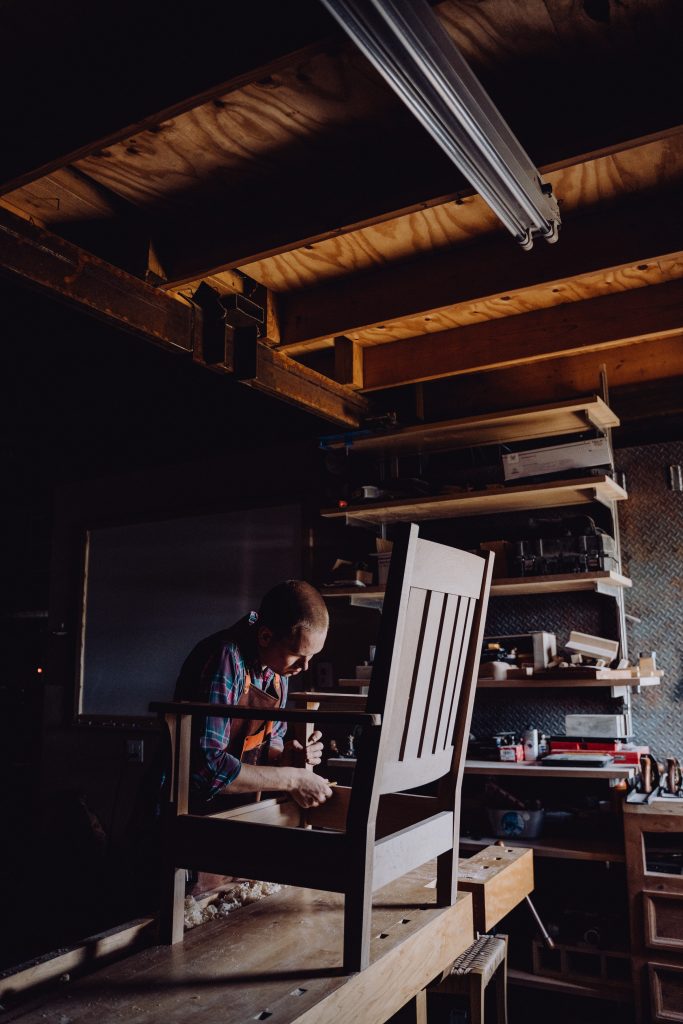 What Type of Furniture Should You Sell?
Knowing what type of furniture to sell is very important. You want to make sure you're not wasting your time by restoring a piece of furniture that nobody wants. You also want to make sure that you are definitely going to make a profit.
My first suggestion is to do your research on what items are "trendy" for the current year. Along with this, check the name of the furniture you are looking at.
Just like there are name-brand clothing such as Gucci, Louis Vuitton, and Prada, there are also expensive name-brand items of furniture, such as Room & Board, Essential Home, and DelighFULL.
With that being said, dressers, end tables, storage chests, kitchen tables, and sectional couches are some of the most popular pieces that people buy. Think of what items you have in your own home and what made you buy them and go from there.
Here are some other furniture opportunities:
Desks
Benches
Dressers
Bar Stools
End Tables
Book Shelves
Coffee Tables
Kitchen Chairs
If you have a van or a truck you can also consider the following:
Couches
Cabinets
Love Seats
Bed Frames
Kitchen Tables
Having a van or a truck is a huge advantage. Not only can you pick up bigger items, but you can also offer to deliver the furniture to customers' homes for an additional cost.
How to Refinish Furniture
Clean it
Some furniture that you come across may not need to be restored and only needs a good cleaning with a side of TLC.
You're going to need to get rid of any grime, dirt, and additional residue from the previous owner. This will make sure that everything is in great shape and good to go for the new potential buyer.
You can clean wood furniture with warm/hot water, dish soap, and a sponge or rag. There are also some cleaning solution that is made specifically for wood which will help its natural colors and finish really pop.
Other pieces of furniture such as a sectional couch are going to need a different type of cleaning. These pieces are going to need a nice thorough vacuuming along with a fabric cleaner and a stain/odor remover.
I would also recommend using a fabric freshener. Using these methods will make the furniture look almost brand new and definitely lead to customers.
Restore it
A lot of the furniture you are going to flip is going to need a nice makeover. It is a simple process, but you do need to know what you're doing so you dont mess anything up.
Most likely you're going to need the following steps:
Remove the old paint/stain
Sand the furniture until it is smooth
Restain/Repaint the Furniture
Add new Hardware
Add the Protective Coat
This video shows a quick and easy way how to restore a table. There are millions of videos on youtube of furniture restoration, so I recommend using it as a resource.
How Much Should You Sell it For?
Figure out how much you spent refinishing your product and how much time you spent working on it.
Look up comparable items and see what they go for brand new and determine a price from there.
I recommend starting at a high price but leaving room to negotiate. Come up with a bottom price you are most comfortable with letting the item go for and go from there.
I've seen people buy items at a garage sale for $25 and resell them for $500.
Flipping items for profit is very simple and you can make a nice chunk of change through it. Get Started!