The Falcons and Panthers match up for the 2nd time in 11 days. The first game was electric, with the Falcons ultimately winning 37-34 in OT, thanks to some help from the Panthers. 71 Points! I don't expect them to put up that many points again, but both defenses allow 25+ points per game, and we have an Over/Under set at 43.5. We'll have our official O/U picks & more on our TNF Best Bets show tomorrow.

Matchup Discrepancies: Falcons at Panthers
There's quite a few matchups in this game we can take advantage of as bettors.
Run Game
The Falcons are 4th in rushing yards per game, Carolina's defense is 28th. The Falcons run game is back at full strength with Cordarrelle Patterson coming off the injury report last week, & coming back with a bang scoring both of the Falcons' 2 TDs.
However, Sunday was his first game back in over a month, and this is a quick turnaround playing Thursday Night. His rushing yards prop is set at O/U 51.5 yards. I'm not sure how much of a workload they'll give him. On Sunday vs the Chargers, he only averaged 3.4 yards per carry for 44 yards on 13 carries which is about what he's averaged this season. & that was against the Chargers D, who are 29th in rushing yards allowed. He's only hit 52+ rushing yards in 2 of 5 games this season.
Allgeier's rushing yards prop is listed at O/U 32.5 yards on Caesar's, Draft Kings, and Bet MGM. The rook has hit 30+ rushing yards in 7 of 8 games this season, & Patterson played in 4 of them. He's averaging 9 carries per game with Patterson in the lineup & he's popping off for 4.5 yards per carry all season.
By those metrics he should hit 40+ yards, and this Panthers run D is horrible. 2+ runners have gone for 35+ vs the Panthers in 4 out of their 9 games. Less than 2 weeks ago, 3 Falcons players ran for 39+ on them.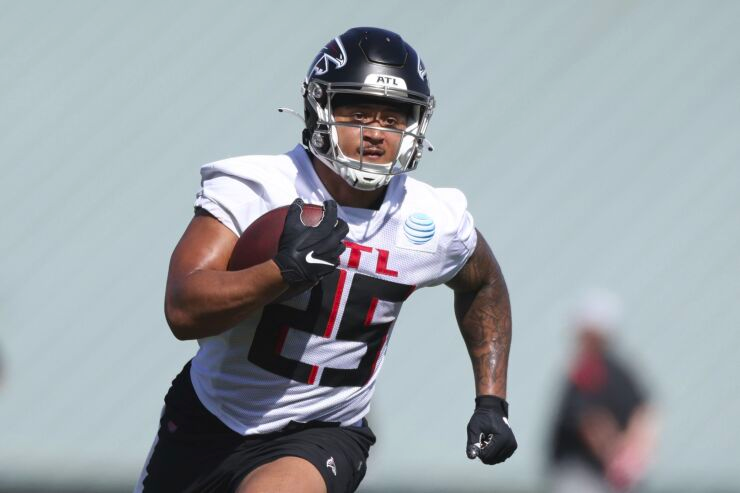 I personally would be more comfortable taking Allgeier's prop than Patterson's, but I'll let everyone know my final decision tomorrow afternoon on our Thursday Night Football Best Bets & Player Props show which you can watch on YouTube.
Subscribe to our channel here so you don't miss it!
Best Prop
As of right now, my best prop for Thursday Night Football is the Atlanta Falcons Total Points, set at O/U 22.5 points on Fan Duel. I'm taking the Over here.
The Falcons are 10th in PPG, putting up 24 on average. They've hit this Over in 6 of 9 games this season. The Panthers rank 29th in points given up per game, averaging 25. They've given up Over 22.5 in 6 of 9 games.
Again, the Falcons just got done putting up 37 points vs this Panthers defense. The same Panthers defense just fired their cornerbacks coach & defensive line coach this week, by the way. Also, the Falcons offense is the 6th best on 3rd down, converting 45% of them. The Panthers defense ranks 25th, allowing 3rd down conversions 42.6% of the time. The Falcons will be able to move the ball and score the ball Thursday night.
I'll be locking this bet in & more on the show tomorrow afternoon, tune in!
We're +19.72 units in the past 3 weeks which is when we started officially tracking it. We'll be adding to that number throughout Week 10, starting with this Thursday Night matchup. Go hit Subscribe! Join us.