Elon Musk authorized the release several e-mails and internal communications (Twitter Files) dealing with Twitter's 2020 suppression of a New York Post article.
Journalist Matt Taibbi received the honor of being able to review this massive trove of intel and narrate a story about Twitter's election hacking.
One particular Tweet stood out – #22.
Though Matt's tweet is vague – there is one particular Twitter source who not only "recalled" a warning from Federal law enforcement, but made a legal declaration to the Federal Election Commission about it.
After the New York Post fiasco, the Republican National Committee (RNC) filed a complaint with the Federal Election Commission (FEC). We reported on this government/Twitter collusion earlier this year when the New York Times (finally) verified the Hunter laptop story.
The FEC "investigated" and determined no wrong doing on Twitter's part. A large part of that final decision was a legal declaration from Twitter's then Head of Site Integrity, Yoel Roth.
Yoel Roth (@yoyoel) declared that he was in meetings with the Department of Homeland Security and the FBI. And he said those meetings warned of "hack-and-leak" operations that would concern Hunter Biden, specifically.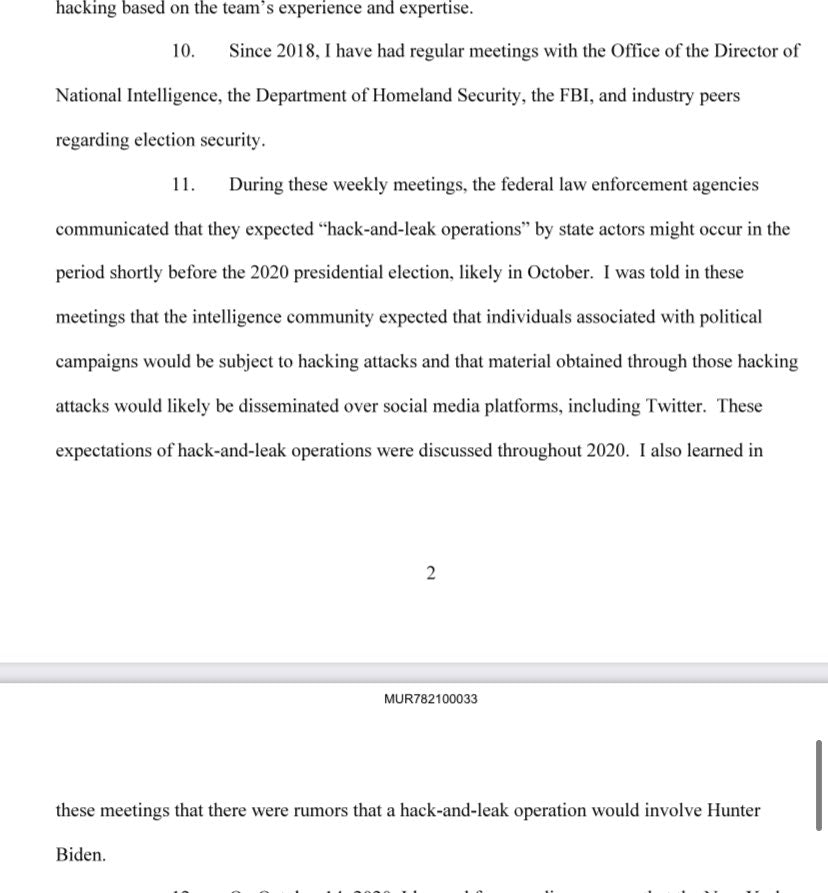 In its final report, the FEC used Mr. Roth's testimony as evidence that no wrong doing had occurred.
It's curious that important information from such high-level meetings would not find their way into any official internal documents at Twitter.
Mr. Roth also declared that "As a matter of practice, neither I nor the other members of the Site Integrity Team communicate directly with persons outside Twitter that report content for violating Twitter's policies."
Taibbi wasn't clear on which specific departments at Twitter were responsible, but apparently this is exactly what was occurring as a matter of practice.
So the question is: did Twitter's (ex-)Head of Site Integrity and other executives conspire to mislead the FEC?