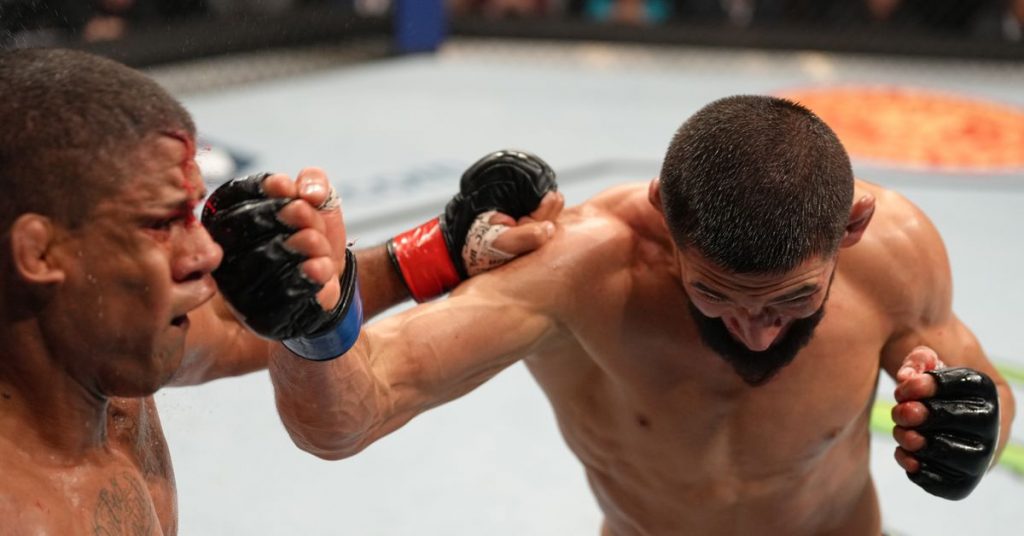 As 2022 comes to a close, we take a look back at the most electrifying moments. Awarding fighters, fights and finishes with the gratitude they deserve.
Best Knockout
Yeah buddy! Let's start with the meat and potatoes ya'll. With a whopping 171 fights ending via KO/TKO this year, it's hard to imagine that your thirst for seeing a devasting KO hasn't been satiated. With that being said, us MMA fanatics will always seethe at the opportunity to watch some organized destruction. Let's take a look at who got the vote by the 3 MMA authorities at Men of Order.
@cassius-cam – Leon Edwards vs. Kumaru Usman @pickinwinnerskeith – Michael Chandler vs Tony Ferguson @pickinfightstom – Leon Edwards vs. Kumaru Usman.
This was a tough one. It is impossible to deny that the most brutal KO of the year came by way of Michael Chandler decapitating Tony Ferguson. The front kick, the way Tony collapsed like Tower 7 and the celebratory backflips make a strong case that's hard to argue.
Although it was absolutely mesmerizing, the comeback 5th round KO by Leon Edwards was slightly more amazing. Not only was it for the belt, but Leon was also a significant underdog. After being dominated for the majority of the fight, Leon made an elite level read and executed. Down by 3 in the 9th inning with 2 outs and the bases loaded, Leon Edwards hit a walk off Grand Slam.
Best Submission
With 98 submission victories in the UFC for 2022, there is a laundry list of breathtaking chokes and bone chilling limb locks to pick from. Accordingly, we had to submit to a decision, and chose the subs that left us gasping for air.
@cassius-cam – Nate Diaz vs. Tony Ferguson @pickinwinnerskeith – Charles Oliveira vs. Justin Gaethje @pickinfightstom – Jiri Prochazka vs. Glover Teixiera
I know I might get roasted for this one but so be it. Basically, I'm a NorCal raised Diaz Diehard. Seeing Nate go out with a super slick guillotine genuinely made me happy. Albeit over a weathered Tony Ferguson, it's unacceptable to not appreciate Nate's ability to find the neck. The speed at which he sunk that choke made some believe that he was more prepared for Khamzat than people expected.
But don't worry dorks. The award was rightly decided between the other two nominees. Both title fights with intense back and forth action. The technical application by "Do Bronx" was undoubtedly superior to Jiri's submission. But the fire Jiri had to endure to secure his choke was the deciding factor in my opinion.
Fight of The Year
This year was loaded with back-and-forth wars. Many of fights where both combatants had to dig to new depths mentally and physically, putting their life on the line for their glory and our entertainment. Although this could warrant some award draws, we had to narrow it down and pick THE scrap that had us out of our seat from horn to horn.
@cassius-cam – Jiri Prochazka vs. Glover Teixeira @pickinwinnerskeith – Khamzat Chimaev vs. Gilbert Burns @pickinfightstom – Israel Adesanya vs. Alex Pereira
With so many great fights it would have been warranted to divide this into two categories. 3 round FOTY and 5 round FOTY. But I felt it was necessary to pick one, that way the most prestigious award in sports would not have to be shared.
The technical chess match between Izzy and Alex Pereira is a great pick when taking into account the level of striking prowess and the two's competitive past. Jiri and Glover had a war of attrition for the ages, even though it was very sloppy in some instances, it was still an instant classic.
However, the deciding factor was the expectations or lack thereof, we as fans had for the last nominee. The contest between Gilbert and Khamzat. What was expected to be a human sacrifice by many, turned into an all-out barn burner. Because of both these fighters making it through the entire fight without being finished, Khamzat vs Gilbert Burns gets the nod.
Underdog of The Year
We all love a good underdog story. With a plethora of down to the wire finishes and jaw dropping comebacks, picking one fighter as 2022's "Dog" would seem to be tough. But this was the only unanimous decision of the night for us. And in the words of Nate Diaz, "I'm not surprised motherf******". This is what the guys at Pickin Winners would call a "lock".
@cassius-cam – Leon Edwards @pickinwinnerskeith – Leon Edwards @pickinfightstom – Leon Edwards
As much as we would like to diversify and have a different fighter for every award, it would be egregious to not recognize Leon "Rocky" Edwards as Underdog of The Year. In true Rocky fashion, he made a legendary comeback that has solidified his place as an elite Welterweight. He went from the "3 piece and a soda" guy to king of the castle with one nuke of a head kick. Not to mention against a juggernaut champion in Kamaru Usman, who was a stylistic nightmare for the brit. Nobody is sleeping on you anymore Rocky. Congratulations.
Fighter of The Year
The last award is a testament of grit and consistency throughout the year. We had breakout fighters like Alex Pereira follow his nemesis over from a different sport and snatch championship glory. We had the potential GOAT Alex Volkanovski defend his title multiple times and make it look easy. All in all, there were multiple fighters worthy of this label, but let's see who takes the crown:
@cassius-cam – Jake Della Maddalena @pickinwinnerskeith – Alex Pereira @pickinfightstom – Alexander Volkanovski
Hard to justify a new prospect over two current champions for Fighter of the Year. But I was extremely impressed with Jake Della Maddalena and how he did away with his 3 opponents in 2022. This dude is for real, and I expect his name on the marquee in the near future.
It's equally as hard to justify NOT giving the award to Alex Pereira. A terrifying force that literally followed his arch nemesis from kickboxing to MMA. Who then proceeded to demolish Sean Strickland and went full Deebo. Snatching Izzy's belt away from him like the chain Red got from his grandmama.
The deciding factor in this came down to who's body of work was the most pristine. And after reviewing every caveat, it makes sense that Alex Volkanovski deserves this award. Alex Pereira had ideal match ups for the stars to align and Jack Della Maddalena has yet to venture into the deep end.
Alex Volkanovski has been able to cement his status as the Featherweight King, all while making it look like there is nobody even remotely on his level. Two title defenses in 2022 adding to his 12-0 UFC record with a potential double champ opportunity in early 2023, we might see a repeat winner in next year's "Best Of" awards.