Latavius Murray, RB, Denver Broncos
Rostered in 34.3% of ESPN Fantasy Football Leagues
After his fifth fumble of the year, Melvin Gordon was benched in favor of Latavius Murray in the Broncos' loss to the Raiders. The next day, the Denver Broncos waived Melvin Gordon, paving the way for Latavius Murray to take the starting job.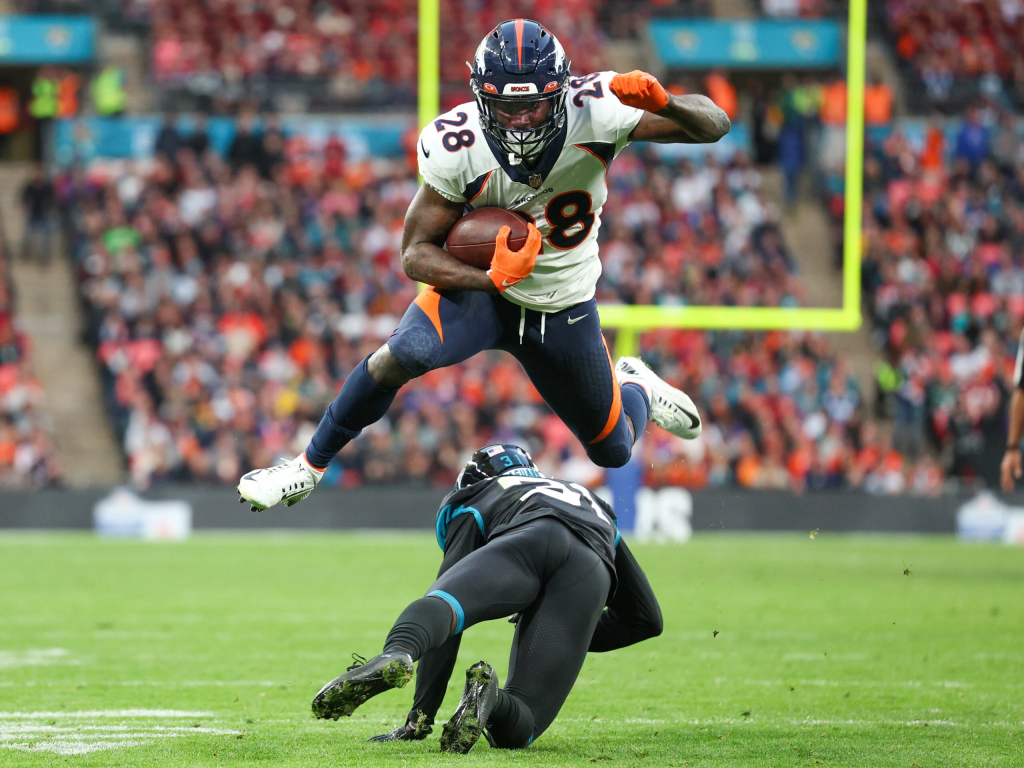 Overall, Latavius Murray has had a pretty decent season with just two of his six games resulting in sub double-digit performances. He is currently averaging around 3.5 yards per carry, but now coupled with an increase in attempts, his YPC is promising, especially when he mixes in Touchdowns (3 in 5 games with Broncos).
He probably would have had 2 TD's last week if Gordon wasn't there, as his fumble was on the goal line. If they didn't sub Gordon in, Murray likely would have cashed a +16400 odds bet that was given out on our Youtube. Go subscribe for more picks!
This week, Murray and the Broncos will be matching up against the Carolina Panthers who rank 26th against the run. Latavius Murray is a must add, especially if you are struggling with running back production.
James Cook, RB, Buffalo Bills
Rostered in 20.8% of ESPN Fantasy Football Leagues
Latavius Murray is easily the best player available on the Waiver Wire, which means that if you're not first or second in the claim order, you realistically have no shot to pick him up. So that's where James Cook comes in.
A member of our Rookie Running Back List back in August, Cook is coming off his best game in the NFL. It's been a pretty interesting year for James Cook, the Rookie out of Georgia fumbled on his very first NFL carry, but he came back the next week with 11 carries for 53 yards. And then from Week Three to Week 10, Cook totaled a mere 21 carries for 114 yards. However, he was back on the production train in the Bills' Week 11 win against the Browns where Cook totaled 86 yards on 11 attempts.
The question going into the Bills' Thanksgiving Day matchup at Detroit is: What James Cook are we going to get? Obviously there is no way of knowing, but with star Quarterback Josh Allen dealing with an elbow injury, there is a high chance the Bills run it more than they have in the past.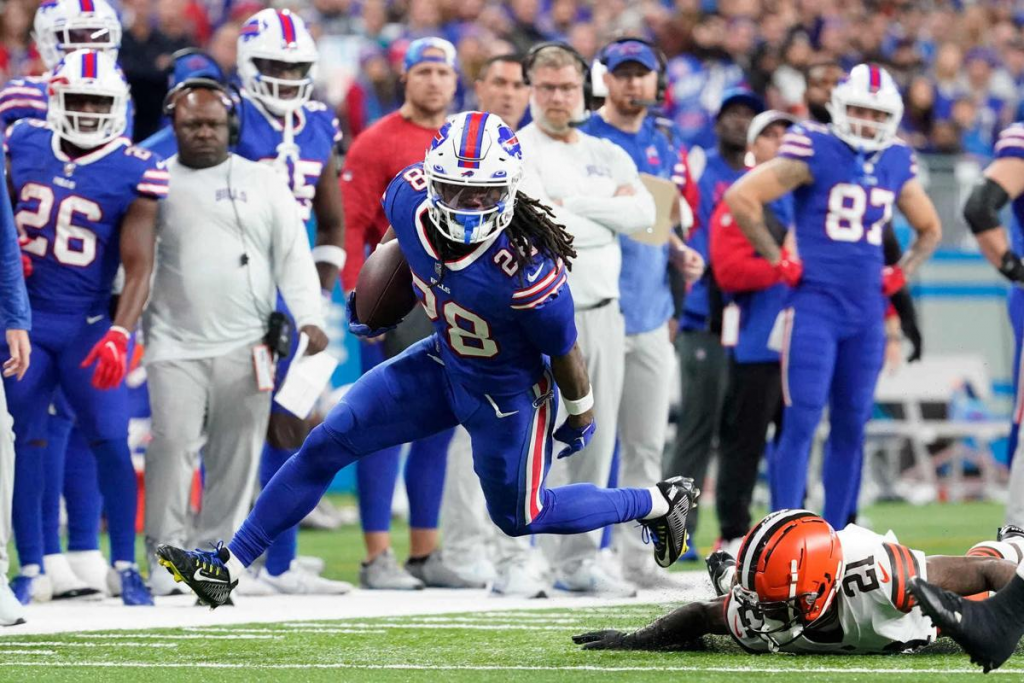 For now, Devin Singletary is the Bills number one option out of the backfield, but Josh Allen's injury could definitely free up some opportunities for Cook. If you can't get Latavius Murray, move your eyes over to James Cook.
Darius Slayton, WR, New York Giants
Rostered in 21.5% of ESPN Fantasy Football Leagues
In the Giants' loss to the Detroit Lions last week, Darius Slayton caught five of his ten targets for 86 yards; this performance comes right after an 18.5 point game against Houston where Slayton caught three of his four targets for 95 yards and a touchdown.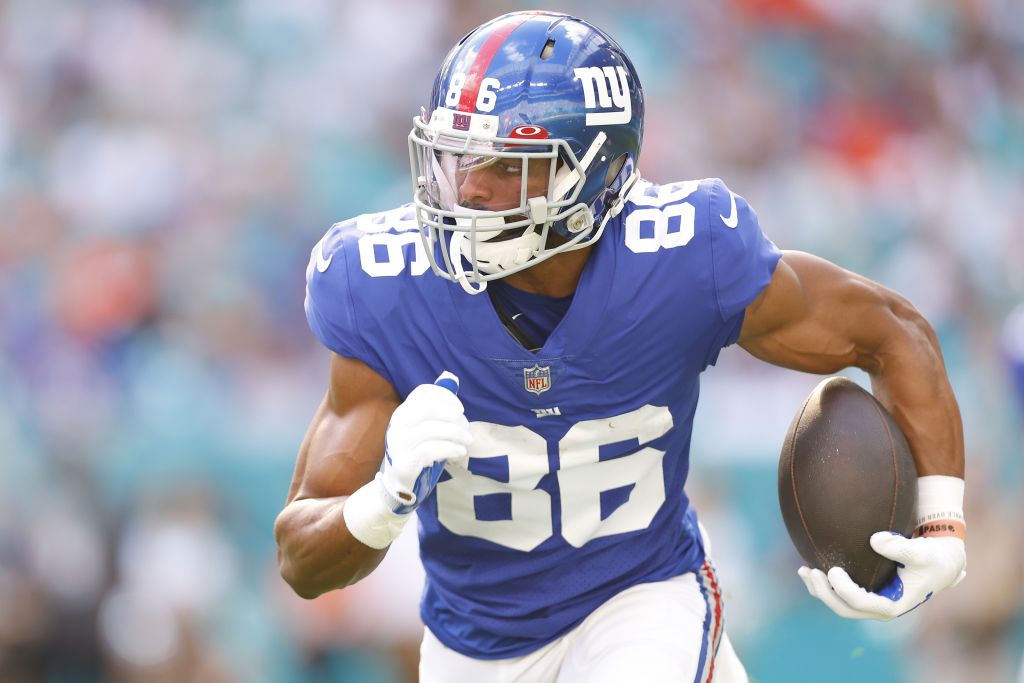 Darius Slayton's Giants are an interesting team in general: their offense clearly relies on the legs of Saquan Barkley, but at the same time Daniel Jones is quietly having one of the best years of his career. As the season goes on, I wouldn't be shocked if New York limits Saquan Barkley's carries so that he can be preserved and healthy for a possible Postseason run. Continuing to give a running back with an injury history 21 carries a game plus multiple attempts through the air could put his health in jeopardy. In this scenario, the Giants will still lean on Barkley because he's obviously their best player, however, the passing game may become more of a factor.
I'm not the decision maker in the Giants organization, but if the Giants were to rely on Daniel Jones a bit more, Darius Slayton would be the number one guy through the air. Next week, Darius Slayton and the Giants face the Cowboys in a huge divisional game on Thanksgiving Day.