But Bitcoin was suppose to jump to 100K……..now it dropped by over 15%………..chill…….breathe……
And yes Bitcoin was supposed to be headed to over $100,000 by now and Ethereum over $10,000 (shoot I even wrote about this)……but the total opposite has happened. $BTC has struggled mightily to make it to and even past 50K solidly (currently at $47,998 at the writing of this article) in the past month. So what exactly happened?
In the early morning hours of December 3rd, a massive liquidation occurred of leveraged (see: borrowed money) Bitcoin traders plunging the price from a healthy 56K to a disruptive 42K then bouncing back to 48K where it has traded sideways for the time being.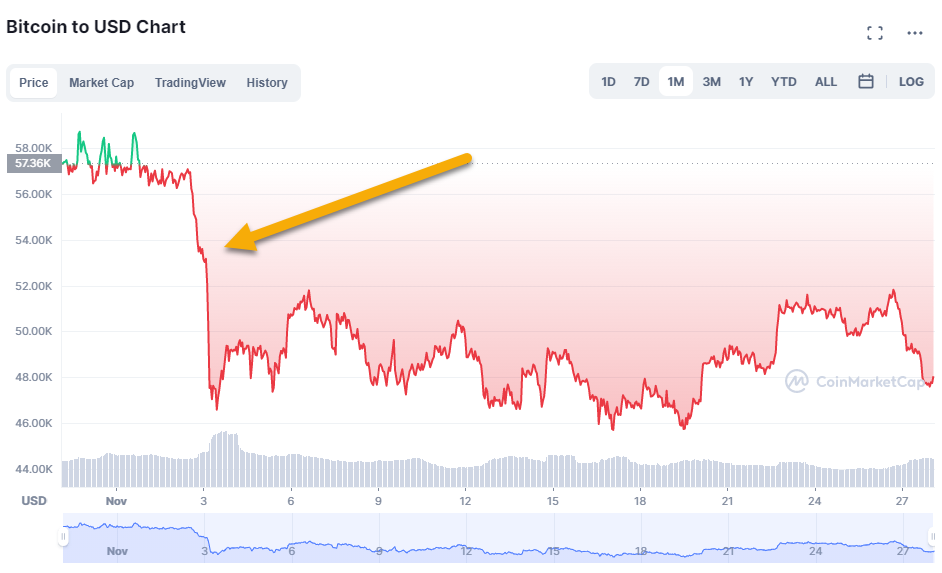 This is a common and old technique from Bitcoin whales to flush out leveraged retail traders called "fetching the stops" and, simply put, the whales sell a massive amount of their position causing automatic stop orders to be executed below a certain price point causing a huge cascading sell off effect on the overall price of $BTC.
And as a reminder:
This strategy is something to avoid at all costs and shouldn't be practiced from my point of view. But whenever there is a massive correction/dip/event I always look at the big picture: "When in doubt, zoom out."
What this means is to get out of your 15 minute, 30 minute, hourly , and even daily charts. Look at a broader timeframe like the weekly or monthly to get a true picture of: how far we've come and the "true trend" or sentiment of the market. There are other factors, including RSI, EMA and MACD that I analyze as well and I will write another article on that at a later time. Right now let's focus simply on the trajectory of the candle patterns and price levels in general when comparing at a previous date.
Above you will find a screenshot of my personal Trading View Bitcoin chart from a weekly standpoint from January 2021 until now. When you look at this view point or even the monthly (below), your emotions will subside and viewpoints will change.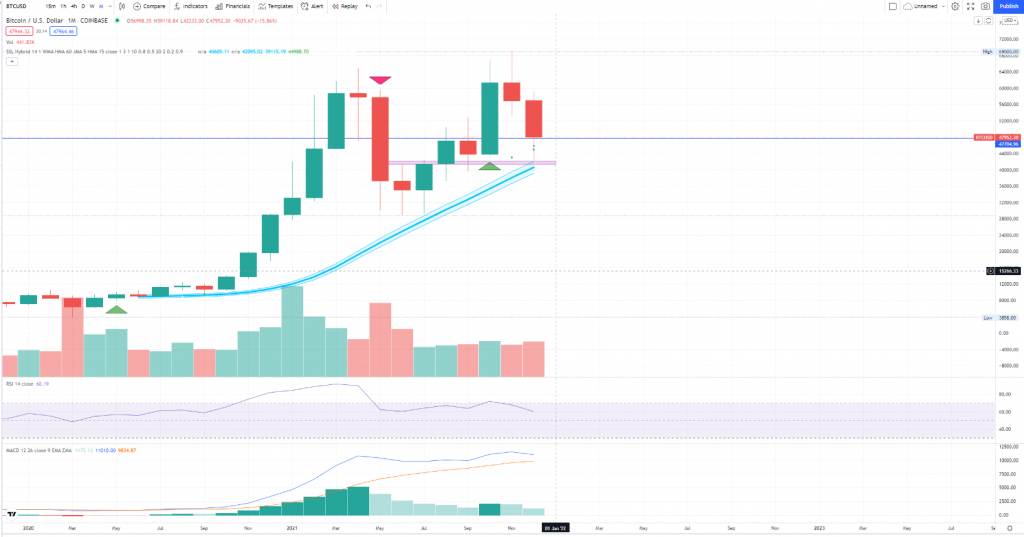 As crypto investors sometimes we feel entitled to immediate results and 50-60% gains at the drop of a hat…..and also to never come down or be subject to a correction. This is simply not the case nor will ever be and the quicker you realize this the better. Remember, crypto is a volatile asset and price adjustments of 10-20% are common whether its on the upswing or down. Also doing your own research (DYOR) and having a natural conviction/belief in your coin/token assist with this and instead of panic selling or feelings of worry/doubt, you will actually welcome these dips as times to buy at a discount. #buythedip
Hotep & Build