Master Focus™
Regular price
$89.00 USD
Sale price
$56.00 USD
Unit price
per
Sale
Sold out
Our experts have assembled the highest quality, most powerful, mind-upgrading herbs on Earth into MASTER FOCUS - a 100% Herbal Nootropic.

Each bottle includes 90 vegan capsules filled with the tried & tested Master Focus™ herbal formula delivered to your door every 30 days.
Take 2-3 capsules daily with a meal and you'll feel the mind-blazing results after about two weeks.
🇺🇸 Made in the USA
📦💨 Fast Free Shipping in the USA
🎯 Wield laser-like concentration for hours to tackle your most difficult projects
⚡️ Access knowledge in instant recall to know what you need when you need it
🌊 Experience 'FLOW' & check off each task to win your day
🔥 Feel the power of your whole consciousness you have to shape your life however you want

*Note: Orders to Europe now come with an additional fee called "Landed Cost" when shipped via USPS.
Share
View full details
#GetYaMindRight #RealRight
I first have to thank you for bringing this to my attention! I am 52yrs old and the for most a sharp dude, at this age though I started noticing that I was more forgetful than usual over about a few months span. At first I just chalked it up to being a former hyperactive cannabis consumer, never really having a great short term memory to begin with I thought not much of it. Things started to turn when my family also noticed my constant forgetfulness and misplacing of things constantly and having to waste time with growing frustrations to recall of simple details. It even got so bad that I even had to make subtle lifestyle changes developed out of necessity. An example of this is that in the mornings I would plan and leave home 1 half hour early because I would for a guarantee have to return because I forgot something. Listen One day I remembered picking up my wallet and leaving home only to walk 5 NYC blocks to train ONLY to realize! I did Not Have Said wallet!!! That was it I was in need of something to help me with my issue, enter Master Focus, I have been an avid follower of the Hotep Nation Movement for the past 3yrs. Then a few months ago Master Focus was introduced and at first like anything I was skeptical but I went to Men Of Order read the info you had on the product. Although not versed on any type of herbs and their effects the thing that stuck to me was the fact that it was naturally sourced and HJ was taking I was like what the hell give it a shot plus with discount that was a drop in the bucket with the added opportunity to support the Movement and if it works WIN WIN!! Well Got Damn!!! On May 26, 2023 placed the order which was promptly shipped to Me so that June 1, 2023 was my first Dose!!! At the Time of this correspondence the date Sept 28, 2023 If this Stuff AIN'T I am Not what Joe Biden said I'm Not since I Didn't vote for his Ass anyway!! Real Talk Everything It is supposed it is doing and more! My memory is definitely sharpening especially in the Short-term range No losing something I just put down and searching extra hard for it, cutting down on frustrations. I am definitely much more energetic especially when it comes to putting action to plans. Ready to Fail Quicker and Regroup. I am Photographer Just turned Pro and with the Master Focus in the tool belt I am able to really tap into my Visual creative Minds Eye and Produce A Noticeably Better Quality to my Photo Art. Even when I run into Obstacles I am able to with clarity and precision dissect problem and bring a solution to situation with out twisting myself out of shape. Another benefit that i have noticed is with optimal mental wellness times were because my mind wasn't right when confronted with issues I would be more emotion driven and less Logic based when navigating my environment. I cant say enough about how thankful and grateful to the Team that developed this Brain Buster THANK YOU!
Salute TO THE MASTERFOCUS TEAM
limitless pill
I'm hyper attentive when I'm on this. I feel motivated to take on any task and do so without much friction
Life Changing!
This product works great in general, but when also combined with healthy eating & exercise, Master Focus as an extra touch makes you feel & act truly limitless! 10/10 would recommend.
I find myself becoming much more productive
I've been feeling great. Certainly gain a lot of clarity and feel it's easier to enter that flow state. I notice for some reason it really kicks in later in the day. Even when I take it in the morning. Probably when my mind is able to relax, I find myself becoming much more productive. My thoughts and speech are much more concise and flow more fluidly. Almost like an out of body experience. Like you can almost watch yourself as you're articulating your thoughts. Sounds crazy, but I'm for real. So far I'm enjoying it. The blend is on point.
Collapsible content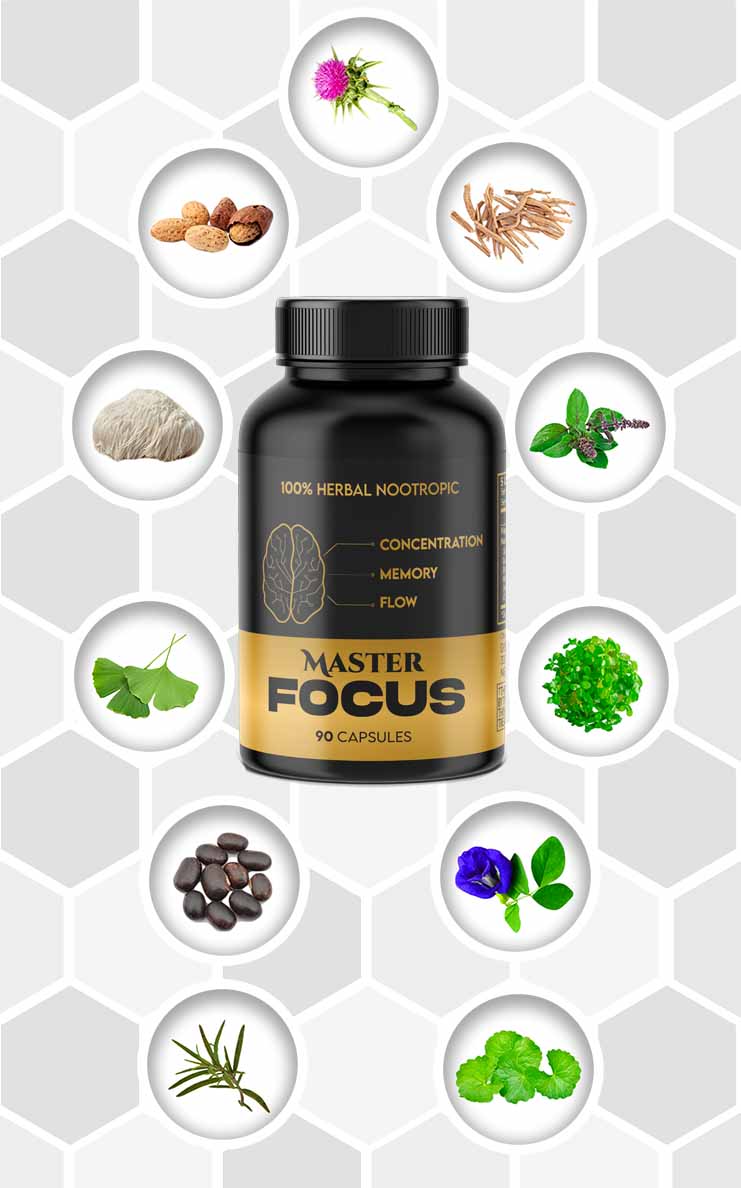 The Master Focus Secret

The Master Focus™️ formula is a 360º approach to brain health that provides powerful, long-lasting & sustainable results.

Our combination of herbs is a 5-pronged strategy that includes:

🔍 Memory Amplifiers: Better memory function for faster recall by promoting brain health.* 

🧠 Brain Builders: Facilitate optimal brain function.*

⚡️ Energy Boosters: Provides you with energy to easily complete your most arduous tasks.*

🌞 Mood Enhancers: Amplifies key neurochemicals to make hard tasks seem easy and enjoyable.*

❤️‍🩹 Gut Health: Maintains organs associated with the nervous system and neural function. *

We leave nothing out.
Collapsible content
What is a nootropic?

If you've ever had a cup of coffee, you've had a nootropic. The active nootropic in that case is caffeine.

Nootropics can be loosely described as "brain enhancers."
What are the ingredients in Master Focus™?

Master Focus™ has a special formula of herbs and mushrooms that includes Ginkgo Biloba, Gotu Kola Leaf, Bacopa Monnieri, Rosemary Leaf, Holy Thistle, Ashwagandha Root, Kola Nut, Holy Basil Leaf, Kappi-kacchu, Blue Butterfly Pea, and Lion's Mane.
Are there any filler ingredients?

We do NOT add any filler ingredients in our formula. Many brands do for various reasons which do not lend any benefit for brain health. We ONLY include the best ingredients which include nothing but herbs and mushrooms.
What is the Master Focus recommended dosage?

For best results take three (3) capsules with water 5 minutes before or after a meal.
How long does it take to work?

The effectiveness of Master Focus™ depends on
your body chemisty. Some individuals are healthier than others so they
will feel the effects sooner and deeper. Expect to feel some effects
after two weeks of daily use. Some claim to feel improvements
immediately.

Master Focus™ uses herbs that will support gut
health. Some professionals have referred to the gut as the "second
brain." And supporting the gut promotes your ability to think.

Our formula also promotes antioxidant processes.

Master Focus supports better memory, focus, mood, mental speed, and overall brain function.
How does Master Focus™ work?

One of our ingredients (Bacopa monnieri) promotes the growth of nerve cell branches (dendrites).

This supports your brain in processing information faster.

To improve your mood our formula promotes the activity of
neurotransmitters known as gamma-aminobutyric acid (GABA) and support overall blood circulation.

By supporting your central nervous system you may experience increased alertness and a boost in energy levels.
Are there any side effects?

Master Focus™ facilitates healthy blood flow so men may experience and increase in their libido.
Where and how is Master Focus™ manufactured?

Master Focus™ capsules are made and sourced in the USA.

Our ingredients are pure, containing only COA (Certificate of Analysis) organic and/or wild crafted herbs. 

Master Focus™ manufacturing is CGMP (Current Good Manufacturing Practices) compliant, ensuring its safety and quality.
Are the capsules vegan?

Our product is 100% Vegan, made without gluten, soy, eggs, nuts, or wheat. Our capsules are HPMC Vegetable Cellulose.
Why are you more expensive than other brands?

Many of the brands you see in the nootropics market use cheap and/or filler ingredients in their formula.

Master Focus™ has no fillers. Each capsule is filled with 100% premium herbs and mushroom from organic and wild sources.

We have included nothing but the best earth has to offer to ensure the quality of your health and brain.
Lightning-Fast Thinking*

Our premium herbal capsules create neuronal superhighways to transform your thinking speed:

⚡️ Quick calculations: Back of a napkin math becomes easy to solve mind puzzles.

🌊 Flowing work & momentum: No more procrastination, just quick execution of your most pressing tasks.

🔍 Instant information Analysis: See the informational patterns, make connections, get the whole picture.

Brain Health Optimization*

Our herbal blend is specifically formulated to support long-lasting brain health. Brain health is paramount if you wish to:

🎯 Enhance Your Focus

💭 Enhance Your Memory

😇 Enhance Your Mood

🌞 Experience Mental Clarity

We want to enhance your focus over the long term - we're talking keeping up with your children's children's children.

Slay Mental Laziness*

Your brain naturally wants to be lazy - it does not want to think. Procrastination is difficult to overcome.

So we formulated Master Focus™ to make thinking easier and more enjoyable with its mood enhancement properties.

Because here's the thing - your genius is waiting for you on the other side of this laziness.

This genius is what you wield to tackle life's challenges and create the life of your dreams.