Dr. Peter McCullough has been criticized due to his takes about the Covid-19 pandemic which go directly against what the mainstream media is portraying.
McCullough hit the headlines a few years ago when he went on The Joe Rogan Experience and asserted that early on in the pandemic, health officials delayed Covid-19 treatments in an effort to instill panic in the general population and pressure people to get vaccinated.
Who is Dr. Peter McCullough?
Dr. Peter McCullough is an internist, cardiologist, epidemiologist, and the Chief Scientific Officer of The Wellness Company.
He is a Consultant Cardiologist and Chief of the Division of Nutrition and Preventive Medicine.
He was vice chief of internal medicine at Baylor University Medical Center and a professor at Texas A&M University as well.
Due to his takes about Covid, Baylor sued McCullough to prevent him falsely claiming any current association with Baylor Health. On January 17, 2023, the 191st Judicial District Court of Dallas County, Texas dismissed the case.
As mentioned previously, he has become mainstream due to his appearance on Rogan's podcast where they discussed the handling of the pandemic.
He has also appeared on many other mainstream shows since then.
On Ask Dr. Drew, he said "Where there is a stew of corruption… you will find the Bio-Pharmaceutical Complex setting up shop."
Woah!
He also had a great interview with Bryan Sharpe aka Hotep Jesus that evidently led to a temporary ban from Youtube.
Spreading Lies?
In the initial interview, McCullough talked about the side effects of the vaccine, including blood clotting and myocarditis, and how it is effecting specifically athletes.
Mainstream media claims that he is spreading misinformation, but is he?
It is very sad to say, but unfortunately a professional basketball player died last week of a heart attack. He was only 28 years young.
Óscar Cabrera played professionally in the Dominican Republic and died of a heart attack while undergoing a stress test at a health center in Santo Domingo.
Cabrera had myocarditis, a condition that can make the heart less capable of pumping blood. In a social media post, he blamed the mandatory vaccine for his condition. (Full Article on Outkick)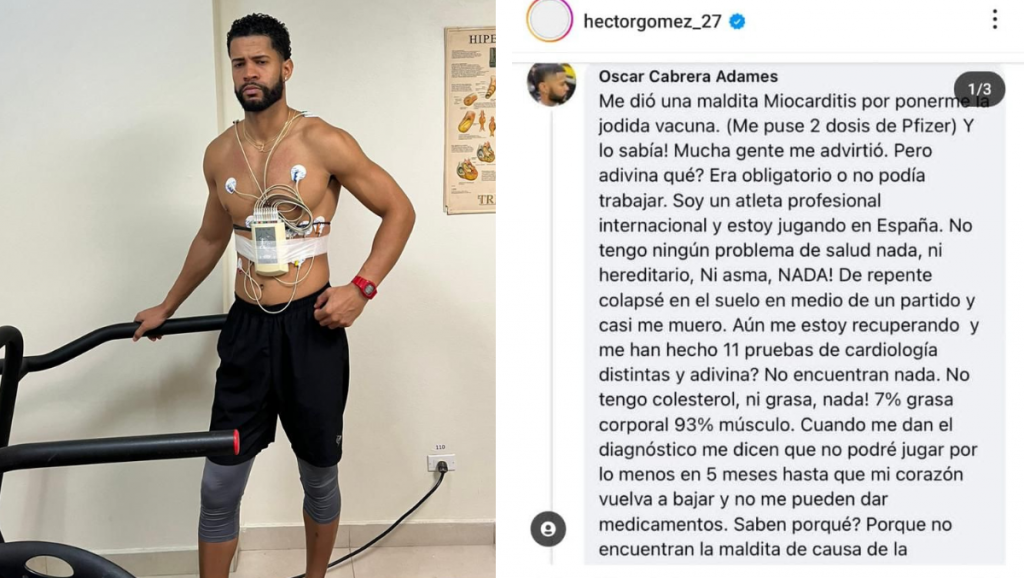 Banned From Twitter
McCullough brought up how he got banned from Twitter for 2 Months during November of 2022. He ended up suing Twitter but lost the case based on SLAPP legislation.
He also mentioned how major media outlets formed the 'Trusted News Initiative' during the pandemic which was an intentional motive to make all information in the media be pro-vaccine. Anything that challenged the narrative was quickly dismissed.
McCullough argues that Twitter is a 'Common Carrier' but they claimed that they are solely a content provider which is why they are allowed to portray the whole situation to their liking, also giving them the ability to ban whoever they want.
Censoring the Truth?
Hotep and McCullough sat down on Rumble recently and had another discussion where they continued the conversation about the content that got Hotep's account a temporary suspension.
It is clear that censorship has become a major obstacle when trying to discuss important issues. It seems if you don't agree with what the mainstream media is saying then you are subject to get cancelled.
Important topics based on 'total population control' were discussed between the two, among many other important pieces of evidence that further prove McCullough's point.
Dr. Peter McCullough also released his book, which is a best seller, called THE COURAGE TO FACE COVID-19: Preventing Hospitalization and Death While Battling the Bio-Pharmaceutical Complex.
He explained all the ways that certain industries are trying to take advantage of the general population.
McCullough also explained how they are trying to destroy all independent media in Australia and how independent media outlets are becoming more and more important in America.
Censorship is clearly on the rise.
It is important to take an objective look at important topics. I recommend watching the whole interview here.