There are plenty of careers and opportunities that pay well that don't require a college degree and a lot of them are service-based businesses. The cost of college has increased dramatically in the last 20 years which has led to a lot of people looking for opportunities elsewhere.
According to Education Data, the average federal student loan debt is $36,510 per borrower. Private student loan debt averages $54,921 per borrower.
It is clear that college is not only expensive but also takes a lot of time before you start making money.
It usually requires a minimum of 4 Years to earn a Bachelor's Degree. After that, you have to start applying for jobs and the job market is extremely competitive, so nothing is guaranteed.
Not everyone wants to wait four years to start making money, and college has become less and less appealing for a lot of people.
There is nothing wrong with going to college and there is nothing wrong with not going to college. Everyone's situation is different, so before you make a decision ask yourself what is the best way to advance your career.
Going to college is worth it if it is going to propel you toward your goals in life, but it may not be the route for you.
Let's take a look at how you can choose a different route if need be.
Service-Based Business
One of the best ways to earn a living without a college degree is through a service-based business. A service-based business sells a service instead of selling products.
A lot of people are lazy and love convenience. They are usually looking to outsource the miscellaneous tasks they don't want to do.
This is an opportunity for you to step in and make a living. Most service-based businesses require you to get your hands a little dirty, but if you're willing to do so then you can make some cash.
Service-based businesses are typically the easiest to start. There usually aren't a bunch of overhead costs and you don't need much experience to get started.
Service-based businesses are very popular with people who want to be their own bosses and have more control of their lives.
Here are three profitable service-based businesses that can change your life.
Landscaping Business
If you have ever mowed the lawn then you can start a landscaping business.
Cutting grass can be a great side hustle, but can also be turned into a full-time business. If you love the outdoors and sunshine then what better way to make money than landscaping.
According to the National Association of Landscape Professionals, the landscape services industry makes around $93 billion in revenue each year.
Maintaining a yard can be a lot of work. There are plenty of opportunities out there to mow lawns, weed plants and do other treatments to people's yards.
In order to be successful, you have to know what services you'll offer and how much you will charge. Every area of the country is different, so do your research. There is plenty of free info out there.
The most common services include mowing, Spring and Fall cleanup, and mulching. My advice is to start small and monitor your progress as you go.
Insureon provides a great resource on how to start your own landscaping business. Check it out here.
Painting Business
There is something rewarding about taking something ugly and making it beautiful again.
If you enjoy working with brushes, rollers, and ladders then starting a painting business may be for you. Painting can be a very tedious endeavor which is why a lot of people would rather outsource it to professionals.
If you are someone who enjoys working hands-on then painting could be your money maker. Painting is a great startup because it doesn't require much money at all.
If you have the budget to purchase some tools and necessary equipment then you can earn some serious cash.
Your business can be both residential and commercial which is great. Residential customers tend to tell their friends and family about your services which will eventually lead to more business.
That's the power of word-of-mouth advertising.
You can paint exterior houses, decks, and buildings, along with earning contracts from commercial businesses to do reoccurring interior work.
If you think painting is for you, check out this article from Blogging Painters to get started.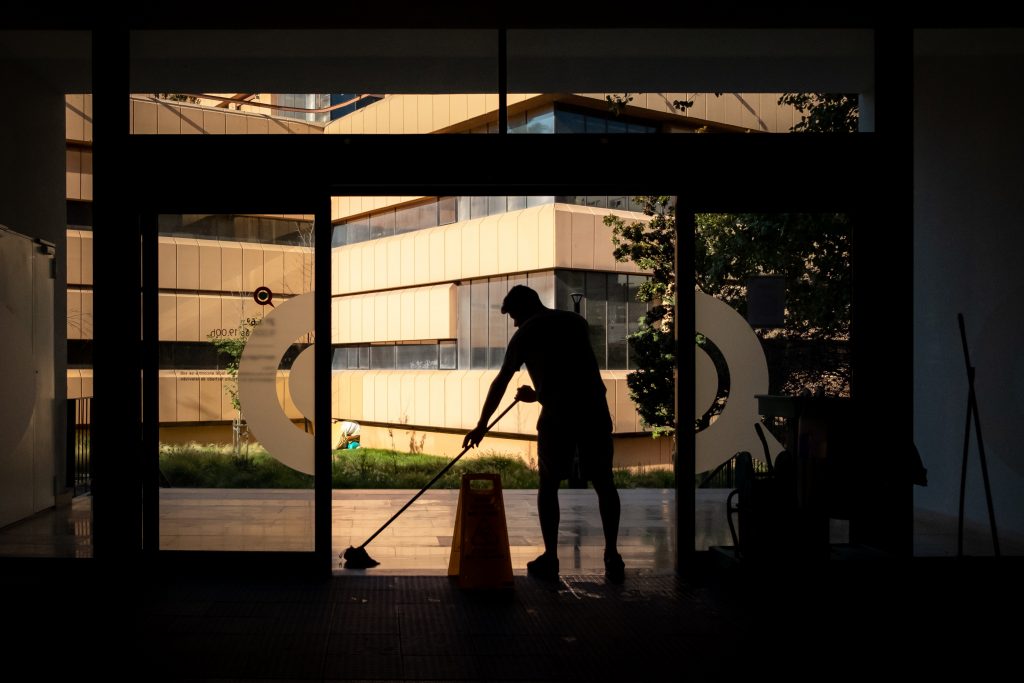 Cleaning Services
A cleaning service is a great way to make a living while being your own boss. This is also a great business to start if you're looking for something with a low overhead cost.
Cleaning is one of those things that everyone has to deal with but no one wants to really do. With that being said, there are people out there who find satisfaction in cleaning.
Cleaning services are usually high in demand, so if you're willing to put in a little elbow grease then you have an opportunity to make some great money.
Similar to painting, you can offer your services for both residential and commercial buildings, but you will need to decide what type of services you want to provide.
Some businesses offer light cleaning which includes dusting and sweeping while others offer more specialized services, such as pressure washing and heavy-duty carpet cleaning.
In order to decide what you want to do, I recommend this article from Nerd Wallet on how to easily set up a cleaning company.
Get Started
Service-based businesses are a great alternative if you are looking to avoid a college degree.
There are plenty of articles out there that can help you get the information you need to start your business.
If you want to start a business but don't have any experience or skills, watch some Youtube videos on the tasks you are interested in.
Along with this, you may want to work for somebody else for a while so you can learn the ins and outs of the job. Once you feel confident in your abilities then you can make a smooth transition to owning your professional business.