The CEO of DuckDuckGo Gabriel Weinberg decided to join the Woke Mob.
DuckDuckGo has now updated its search results to "down-rank" sites that share "disinformation".
In a previous blog, we shared some Woke-less search engines. Let's look at a few more.
YaCy Search Software
YaCy is a peer-to-peer, open-source search engine. Most search engines require some level of trust since there is no way to be completely certain how they use your data.
However, YaCy is a private company that does not have a central server or proprietary software.
The software YaCy uses is a network of private computers controlled by the community. YaCy just provides the open-source code, and the community does all the work. 
Each person that uses the search engine creates their index, and that index is shared with the community. These search results are dynamic and uncensored.
Since this search engine is distributed by the community, YaCy does not belong to any legal jurisdictions. The laws only apply to the users, not the whole YaCy network.
This is a software-based search engine, and it will need to be installed. The installation takes a few minutes. Just download the release, decompress the package and run the start script.
Swisscows Search
Like most private search engines, Swisscows gives search results without saving search history.
Swisscows uses a "semantic map" to give helpful search suggestions on the right side of the page.
This private search engine takes family-friendly searching seriously and removed all adult and violent content by default. 
Since they are in Switzerland, Swisscows is outside of the jurisdiction of the US and the EU. This means they are less likely to be required to give data to the authorities if asked.
Private.sh
If you want to get super extreme with privacy, Private.sh might be an option. This search engine encrypts search terms locally on your computer.
Then, it sends the information through a proxy server to Gigablast, its search provider. Gigablase will decrypt the search, then re-encrypt it, and them send them back to the browser to be decrypted.
This will make sure that the search engine knows nothing about you, including your IP address. Your query logs are not shared and are deleted regularly.
The search results are a lot smaller; there are no local results or sorting options. Only "News" is added as an additional results category, but this is a sacrifice that is necessary for truly private searching.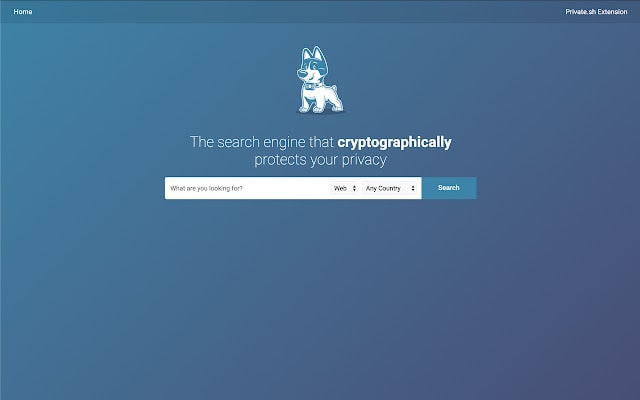 Wrapping Up
These multiple searching options might be overwhelming to use. These tools may even prompt you to go back to what you've been using.
Just remember to keep your VPN handy when searching. 
And if you happen to still be using Google on regular basis, turn off ad personalization, personalized search results, and manage your auto-delete settings. 
This won't prevent companies from collecting data about your searches, but it can prevent that data from coming back up when you least expect it.