NYC Mayor Eric Adams hinted at the possibility of the city's stabby mandates being phased out.
Other big cities such as Boston, Philadelphia, & even Washington DC have already done this. Now, people are calling on Adams to make the move for New York City.
Yes, I can't wait to get it done.

NYC Mayor Eric Adams
I don't want to mislead readers, so here's a screenshot of his full quote.
As NBA insider Shams Charania pointed out, this would mean Kyrie Irving can hoop in Brooklyn.
Just last week, NBA Commissioner Adam Silver questioned the rule preventing Kyrie Irving from playing in Brooklyn Nets' home games. Silver also hinted at this possibility of the mandates being lifted in NYC.
5 days before these comments from the Mayor of NYC, I told Twitter I think Kyrie will be playing in Brooklyn by the NBA Playoffs. I am now much more confident in that stance.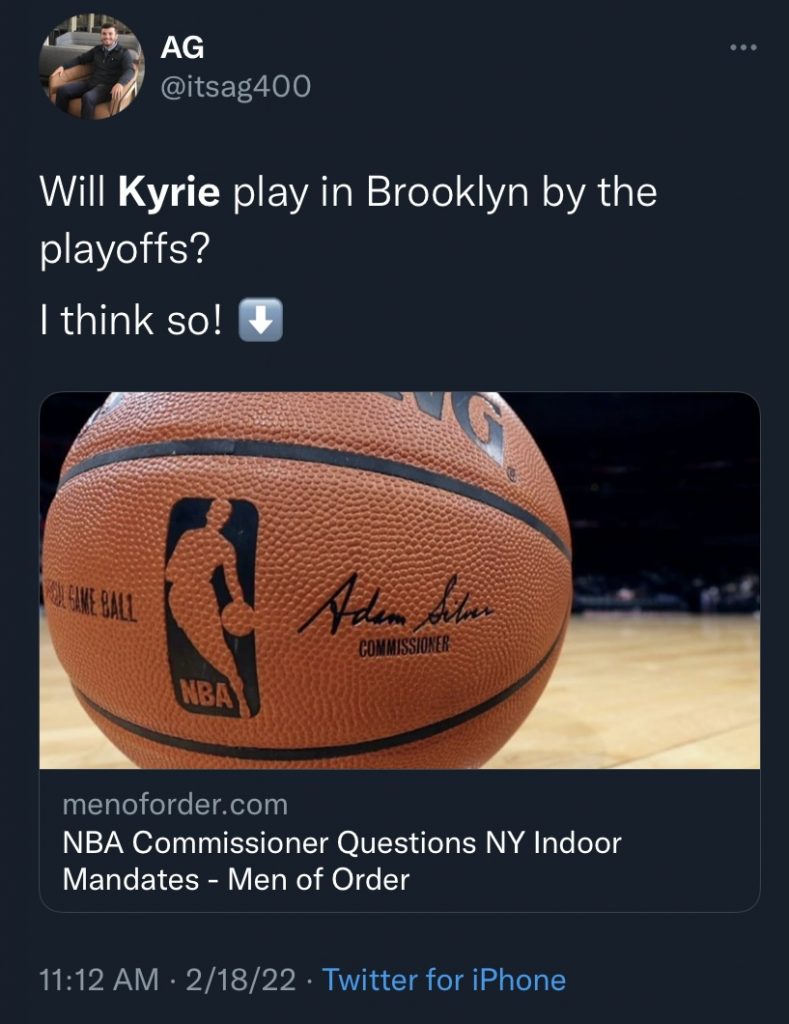 Kyrie Irving's return to Brooklyn is officially Loading…
"Unfortunately, it's time to let Kyrie Irving play in NYC" reads New York Magazine's headline today.
Despite the NBA being on track to 3X their Covid-19 cases compared to last season when there was no shot, people somehow still think Kyrie is the problem for saying no.
In the article which is focused on taking personal pleasure in mocking athletes who have taken the personal liberty to decide on their own medical treatments, the writer simultaneously admits this.
We have reached a juncture where penalizing vaccine holdouts has become less about public health and more about punishment for the sake of punishment.

Will Leitch, New York Magazine
It's incredible that people can go from lambasting unvaxxed athletes in one sentence, to admitting that they could be the safest players in another sentence, without realizing the logical fallacy of these stances.
The author of this New York Magazine article writes: "You know every game Irving plays that he at least recently tested negative. You can't necessarily say that about vaccinated players, who, as we've known for quite a while, can spread Covid too, if less easily than the unvaccinated. Kyrie could conceivably be one of the safest players in the league to have on the court." & "It doesn't keep any other competitors safer. It doesn't slow the spread of the already-slowing virus. It doesn't encourage anyone who hasn't gotten shots to get one."
What exactly is unfortunate about letting him play? The writer clearly admits that there's nothing unfortunate about it.
He even goes as far as admitting that Kyrie could be one of the SAFEST players in the NBA. Why do you find pleasure in mocking the safest player in the NBA, Will?
Anyways
As this story unfolds, I encourage you to read my previous articles listed below, as I've been covering the NBA & Covid-19 relationship all season.