The phrase "Defense Wins Championships" has been used throughout the history of Football. However, the catchy remark usually doesn't apply to Fantasy Football. Nonetheless, having a defense that you can rely on to give you consistent and easy points is taken for granted.
Here are seven NFL Defenses that will give you a Fantasy Edge.
7. Denver Broncos
Last year, Denver ranked 3rd in team defense and allowed just under 1900 passing yards.
We all know the strong offensive moves the Broncos made this offseason, highlighted by the acquisition of Russell Wilson, but Denver may have a few game-changing signings on the defensive end. Bolstering their pass rush by adding OLB Randy Gregory and DT DJ Jones, this year's Denver Defense can prove to be a top-five defense once again.
The concern: the Broncos will be competing in the best division in Football. Denver will be challenging Justin Herbert, Derek Carr, and Patrick Mahomes a total of six times this year, and though I believe this Bronco Defense is up to the challenge, there will always be other defensive options available to pick up on those Sundays. Nonetheless, the Broncos' defense will be lights out and the days you plug them in, they will without a doubt give you a Fantasy Edge.
6. New England Patriots
Coming in at number six are the New England Patriots. Last year, the Patriots ranked 2nd in total defense allowing around 5200 total yards.
This Offseason, The Pats made moves in the secondary to bandage the loss of Pro Bowl CB J.C. Jackson, by adding new and familiar faces. Players include career-long Patriot Devin McCourty, Super Bowl 49 hero Malcolm Butler, and the Browns' 2017 first-round pick Jabrill Peppers. These additions, along with a strong front seven, should continue the Belichick trend of having an above-average defense year in and year out.
New England opens up the year against the Miami Dolphins and Pittsburgh Steelers, and though I'm all for a Tua Tagovailoa resurrection and a Mitch Trubisky revenge tour, New England's defense should have no issues handling them. Prepare for another great defensive year from the Patriots and consistent production on the Fantasy Side.
5. New Orleans Saints
At number five are the New Orleans Saints. Last year the Saints ranked 4th in total defense allowing ~5400 total yards across their 17 games.
Offensively speaking, the Saints play in one of the worst divisions in football. This year, the Saints play their division rivals and Quarterback question marked Atlanta Falcons and Carolina Panthers a total of four times, including a week one matchup with Atlanta.
But the Saints do share the division with the ever so formidable Tampa Bay Buccaneers; however, throughout Tom Brady's tenure with the Bucs, the GOAT has fallen four times to Who Dat Nation. In those losses, Brady was picked off eight times. It has been apparent for a while that the Saints' defense will be productive for their 2022 playoff run, and yours for that matter. The New Orleans Saints' Defense will definitely give you a Fantasy Edge.
4. San Francisco 49ers
The San Francisco 49ers take the 4th spot on this list. Defense has been the glue for the 49ers throughout Kyle Shanahan's tenure as Head Coach. This season, with question marks at QB and an extremely tough division, San Fran's defense will have to perform at a high level once again. And they are certainly up to the challenge. Last year, the Niners were 9th in total defense and 4th in sacks, while also forcing 20 turnovers and providing a top 10 rush and pass defense.
The 49ers are advertised by their strong front seven which include: MLB Fred Warner, DE Joey Bosa, and DT Arik Armstead. The 49ers do however have a tough schedule, aside from the first two games of the season against the Bears and Seahawks (which are games the 49ers defense should succeed in), San Francisco has the 5th toughest schedule in the NFL.
This is mostly because they have to face the Rams and Cardinals twice and also play the AFC West. San Fran will be an overall solid pickup, but make sure you have a plan B for games where they face the tougher opponents.
3. Los Angeles Rams
At number three is the defending champion Los Angeles Rams. Last year the Rams were 15th in total defense, but they still forced 25 turnovers and had an above-average rush defense.
Also, the Rams had a great offseason; they Re-signed Aaron Donald and added Bobby Wagner who had an elite 170 tackles last season. Not to mention, the Rams still have one of the best Corner Backs in the league in Jalen Ramsey, as well as a good young linebacker in Leonard Floyd.
However, they did lose Von Miller to free agency, whether that will harm the 2022 Rams defense is yet to be seen. But with or without Von, this Rams defense is a force everywhere. Their elite pass rush, run defense, and downfield coverage will be a challenge to pick apart for any offense. The Rams are a complete defense, and they will give you a Fantasy Edge.
2. Tampa Bay Buccaneers
Next up is the Tampa Bay Buccaneers. Last season, the Bucs ranked 5th in team defense and forced 29 turnovers. Tampa is highlighted by Tom Brady and the rest of his offense, but Tampa's defense was extremely important to their performance last year.
For starters, the Bucs' defense was 2nd in QB pressure last year at 28.6%. Also, Tampa was 6th in sacks and third in rushing yards allowed.
The Bucs will be returning many starters including linebackers Lavonte David, Shaq Barrett, and Devin White, as well as Nickel DB Sean Murphey-Bunting. And it just so helps that Tampa will be playing in an awful division.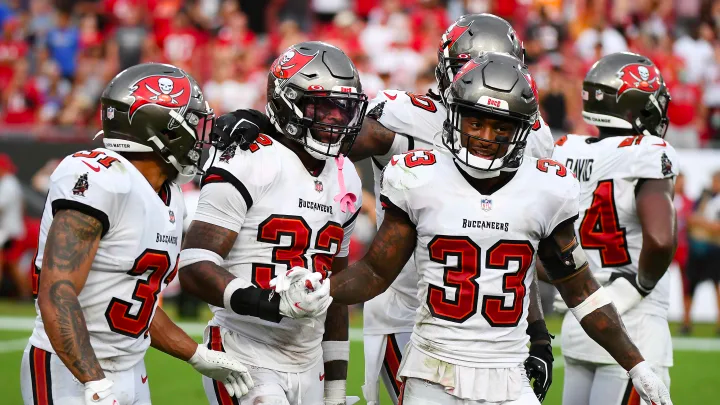 This Bucs defense will have the privilege of facing Marcus Mariota, Baker Mayfield/Sam Darnold, and Jameis Winston a total of six times this year. You can count on Tampa's defense to consistently bring home the easy points that you and your team crave.
1. Buffalo Bills
The best Defense for Fantasy Football is the Buffalo Bills. Last season, the Bills were first in team defense, first in QB Pressure %, first in passing yards allowed, forced 30 turnovers, and they may have gotten BETTER.
The Bills are returning major parts of their secondary, including Pro Bowl Cornerback Tre'davious White and Safety Micah Hyde. That and the addition of rookie Kaiir Elam, the Bills should once again finish near the top of the league in pass defense.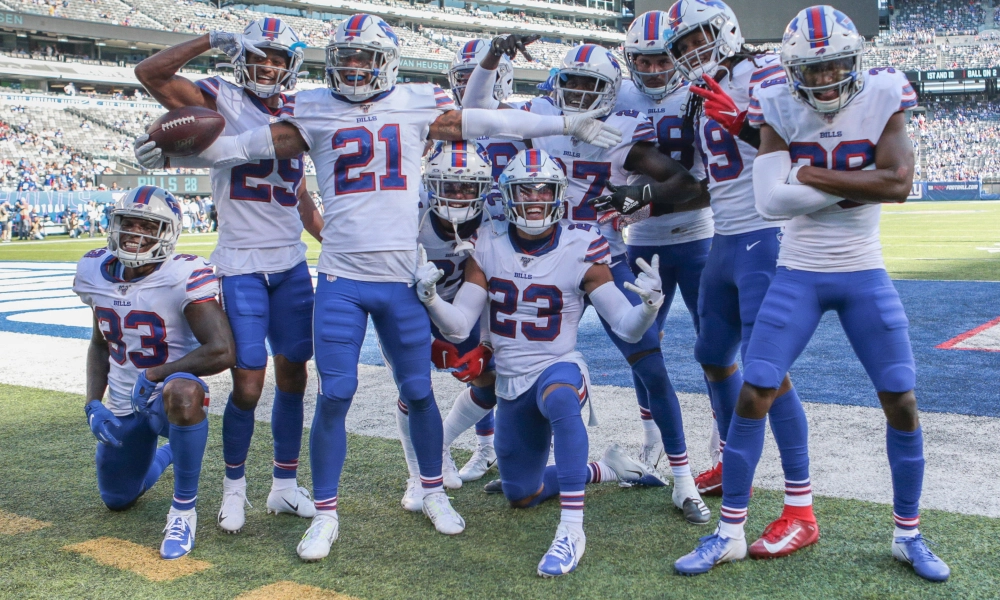 Last season, the weakest part of the Buffalo defense was containing the run, so GM Brandon Beane went out and got DE/OLB Von Miller. Though Miller is most known for his pass-rushing ability, he is still a force at stopping the run.
This is going to be a dangerous defense, and they are definitely worth jumping on a table for. The Buffalo Bills Defense will give you a Fantasy Edge and be the difference maker your team needs.
If you would like to check out the best Rookie Quarterbacks, click here! Draft Strategies are next, stay tuned!